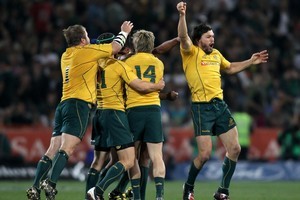 Has there ever been a more sensational finish in the history of test rugby? But has there ever been so much hanging on the result?
In the green corner, there's coach Peter de Villiers who makes a habit of putting his foot in his mouth at every opportunity. And in the gold corner of the Australians is coach Robbie Deans, who has been as desperate for a win as a western money market dealer, a profit in recent times. Something just had to give in Bloemfontein on Saturday.
But never mind the tumultuous personal confrontation. This has to go down as one of the most heart-stopping international matches, a game of rugby that simply had everything in Australia's tight 41-39 win, their first at altitude in Africa in 47 years.
80 points in 80 minutes, eight tries in the game, a hammering comeback from the Springboks who trailed 6-31 at one stage before leading 36-31. And then came the final denouement worthy of an Agatha Christie plot.
Who on earth writes these scripts?
By the end of it, hearts were thumping, nerves jangling, fingers bitten to the quick and some couldn't even look. But Australian full-back Kurtley Beale did, from just over 55 metres, and his soaring, sensational penalty goal flew home to condemn the Springboks to bottom place in the 2010 Tri-Nations competition.
So do you condemn the Springboks, praise the Wallabies or just shake your head at such a phenomenal game of rugby? I'd take the latter. You have to praise South Africa's spirit even to make a game of it at 6-31 down.
Victor Matfield's extraordinary piece of sublime skill and ball control right on half time threatened to turn the game the Springboks' way, giving them a lifeline with that Jaque Fourie try in first half injury time. And for most of the second half the tide seemed to have turned decisively South Africa's way.
They flung themselves into the challenge, smashed opponents aside at the breakdown and created an irresistible forward momentum. It took them from the depths of despair at 6-31 to an incredible 36-31 lead. You just couldn't question the sheer will and spirit of a side that clawed its way so far back in those circumstances.
Yet you could ask plenty of questions about South Africa's abysmal first half performance. There was no defensive structure, no proper pattern and they were yards slower and far less inventive than the clever Australians.
When Australia led by four tries to nil, a rout looked on the cards. And gee, how that crisis exposed some raw emotions in the crowd at Bloemfontein. Bryan Habana, once the golden boy of South African rugby, was roundly booed; indeed, the whole Springbok side got the same treatment when James O'Connor scored his team's fourth try to open up the 25 point lead.
Habana clearly struggled defensively; there was no doubt about that. He missed O'Connor badly on the wing's second try and he made a mess of the defensive alignment for Kurtley Beale's early try.
But a player as great as Habana, world class in anyone's book, did not deserve his rough treatment at the hands of the mob. Bloemfontein fans should hang their heads in shame at turning on one of South Africa's greatest ever players in such a manner.
A Springboks comeback looked out of the question, given the shambles the whole South African side was in the first half. They looked everything insiders say they are - coached mainly by the senior players, with the coaching unit unsure which style to pursue.
Certainly, South Africa never got it in that nightmare first half. Morne Steyn kept kicking the ball out of play and the Wallabies kept counter attacking from the quickly taken line-out. They wreaked terrible havoc in the shambles that passed for the Springboks defence.
But having said all that, South Africa's proud, brave players deserve huge praise for their magnificent comeback. Matfield was a colossus at the line-outs, calling the throws and taking on so much responsibility. But sadly, we again saw evidence that John Smit is no longer able to last the pace at this level. He has been played into the ground.
Yet others in the 'Boks pack rose magnificently to the occasion; Gurthro Steenkamp was exceptional, Juan Smith not far behind him. Matfield exuded class and everyone worked like Trojans to wrestle the initiative from the Wallabies. For make no mistake, that was where the game turned.
South Africa got on top up front to such an extent that the increasingly desperate Wallabies began to look ragged and beaten. But then, crucially, another alarming gap opened in the South African defensive line and Drew Mitchell scored with five minutes left to edge the Wallabies ahead once more.
And even when Morne Steyn had regained the lead with his 9th successful goal kick, Flip van der Merwe's late error handed Beale the chance for glory. He smoked the kick and this wonderful game had a staggering, stunning ending.