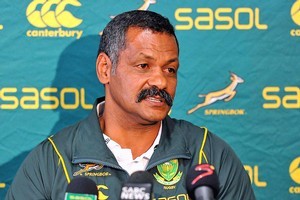 Speculation is growing in South Africa that Springboks rugby coach Peter de Villiers could be sacked as early as Sunday.
Local media are reporting the outspoken de Villiers will be hauled over the coals after comments he made about supporting accused murderer and Bulls prop Bees Roux "100 per cent".
Some reports say the consequence is likely to be the removal of the first black man to coach the Springboks, regardless of the result in the team's Tri-Nations test against Australia in Bloemfontein on Sunday morning (NZT).
SARU officials are refusing to comment on de Villiers' latest controversial remarks until after this weekend's match, South Africa's last of the series.
But the rugby body's president Oregan Hoskins told the Cape Argus newspaper: "We will definitely look at his statements after Saturday.
"I don't want to call it disciplinary action - it may not be. Instead, it will be an assessment."
Several reports say senior rugby officials and even government figures are incensed by de Villiers' backing of Roux, who was charged with beating a black police officer to death last week.
The timeslive.co.za website quoted an unnamed rugby official as saying: "We are not only unhappy with what he said regarding the Roux incident, but also over his previous comments."
Last month de Villiers escaped penalty at a Sanzar disciplinary hearing after appearing to suggest the New Zealand team had received preferential treatment from referees in their two Tri-Nations series home wins over the Springboks.
In 2009, he appeared to condone eye-gouging and in 2008 responded to criticism by asking if rugby should be given back to whites in South Africa.
At a press conference in Bloemfontein on Monday, he said: "We definitely talked about Bees in a team context.
"We feel for all South Africans, and especially rugby players, because a situation like this can happen to anybody. It is a tragic situation and we wish it on nobody.
"The team supports him 100 per cent, not on the deed but rather on the circumstances that led to the situation developing."
One report compared de Villiers' long list of embarrassing comments to the sacking of former Boks coach Nick Mallett for merely complaining about ticket prices.
"Regardless of what happens in the final Tri-Nations test on Saturday, Peter de Villiers can no longer be tolerated," blogger Jon Cardinelli wrote on the respected keo.co.za website.
"The Boks are the world champions and the South African community should accept nothing but the best.
"It's been obvious from day one that de Villiers doesn't fit the criteria, and he's consistently proved it over a three-year career."
- AAP