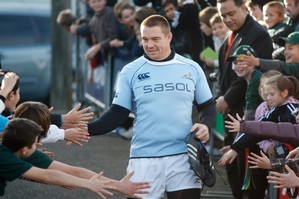 They're warriors, truly special men, these front row forwards. And few in recent times have been greater, more dedicated battlers than John Smit, captain of South Africa who plays his 100th test when he faces the All Blacks in Johannesburg tomorrow.
The hooker is the focal point of the pack. He leads the charge of bodies. These days there are, on average, 20 scrums in a match. In times gone by there were far more. Then there are the daily practice sessions where these men hone their technique.
Perhaps 100 scrums or more in a week? If a season lasts more than 40 weeks, and they play up to 30 games in that time - you can do the sums.
There is onYouTube a short sequence where New Zealand's giant 1.95m, 115kg lock forward Brad Thorn catches the ball and starts to run forward. In the blink of an eye, this huge man is suddenly hurled backwards. John Smit has hit him ferociously hard in the tackle.
Smit, who's been playing top-class rugby since the last years of the last century, has subjected his body to gruelling physical torture. Captain of his country 73 times, a world record, he becomes just the second South African, after Percy Montgomery, to win 100 caps.
Just how onerous is the front row forward's life? Another South African, Stade Toulouse's ex-Springbok loose head prop Daan Human, puts it like this.
"I won't say you ever get used to the blows you take as a front rower, but you get accustomed to them after a while. However, they build up and you can't keep taking them forever.
"John is extraordinary because he has played the game at the highest levels in all three front-row positions. Very few players have ever done that. We know him as a hooker and more recently as a tight head at test level, but I saw him play loosehead prop for Clermont Auvergne when he had that spell in French club rugby.
"It's not everyone who can shift to another position but John did that. Together with William Servat, France's No 1 hooker, John's the best scrummaging hooker I've seen. "
Eddie Jones coached Australia to the 2003 World Cup final and was assistant to Jake White when South Africa, under Smit, won the title three years ago. How does he assess Smit?
"First, he's a very good hooker, in all senses. He runs a scrum, in that he's the focal figure, the one leading the scrummage as a unit. He's strong and committed but he also knows so much about scrums.
"Then there's his lineout work. He's one of the best throwers in world rugby - he had 100 per cent accuracy in the 2007 Rugby World Cup, a phenomenal figure.
"In open play, he carries the ball well and makes his tackles. But above all, he's a leader; he sets examples on and off the field. To me, the hooker is the centre of a team and when he's a leader too, it helps greatly. In this instance, John is a truly great captain.
"All the great captains have had longevity - George Gregan, John Eales, Sean Fitzpatrick, Martin Johnson etcetera."
Australia's 1999 World Cup winning hooker Michael Foley played against Smit early in the South African's career in a Super 12 game.
"The thing that stands out for me is the way he continues to refine his game, improve certain aspects or add other key elements to it," he said.
"That's the mark of the man. For example, his scrummaging improves each year and he's scrummaging better now as hooker than in past years.
"His leadership sets him apart in world rugby. There are wonderful stories about him bringing together a group of particularly strong-minded men and that speaks highly of the qualities of a good player and leader.
"As for his versatility as a player, when I've seen him move back and forth across the front row, I can tell you ... that's a challenge most of us front row boys would've avoided. It's dramatically difficult to switch from hooker to tight head."
Others speak of Smit's unselfish approach, his sense of team first, individual a distant second. It's said he's far more concerned with turning around South Africa's (thus far) disastrous Tri-Nations season than thinking about his own personal milestone this weekend.
In every sense, John Smit is a worthy recipient of his 100 caps and entry to rugby's most exclusive club.
John Smit
* Born: April 3, 1978
* Tests: 99 (prop 15, hooker 84)
* Debut: 2000
- Peter Bills is a rugby writer for Independent News & Media