So much has happened to Andy Woodward since he first revealed last week that he was a victim of the serial paedophile Barry Bennell.
As he sits in the bar of a London hotel he reflects on what has been a blur of media interviews, meetings with the football authorities and, most importantly, meetings with fellow victims inspired to come forward by his own extraordinary courage.
Some of them, 43-year-old Woodward reveals, he will be seeing later on. Steve Walters, Chris Unsworth and Jason Dunford (who fought off Bennell but says his progress as a footballer was halted by the youth coach as a consequence) are due to arrive at the hotel ahead of an appearance together on the BBC the following morning.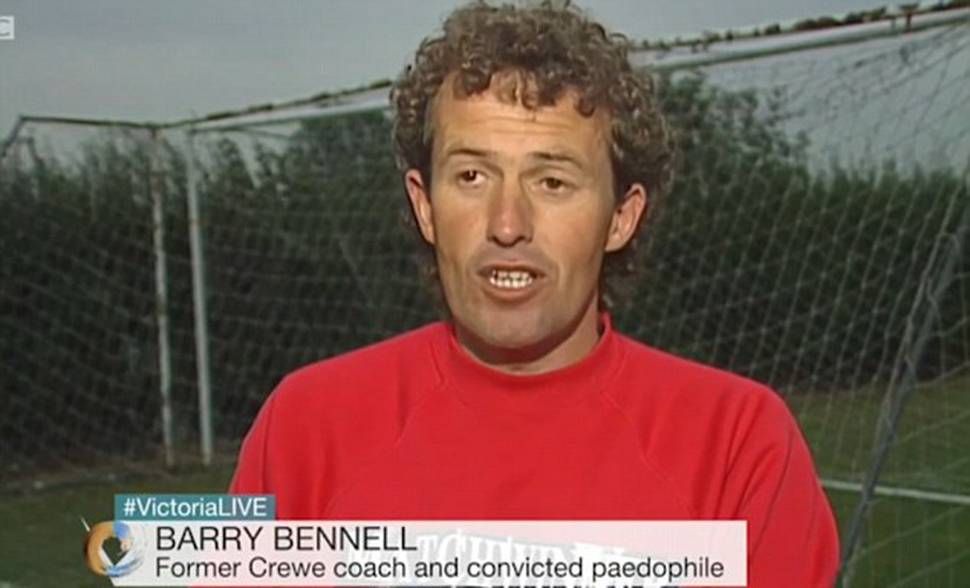 Woodward says they can take strength from each other, and has already begun to think how best to set up a victim support network in the game. Perhaps in tandem with the FA and the Professional Footballers' Association.
He also hopes further evidence will lead to 62-year-old Bennell being 'put behind bars for the rest of his life'.
Quite how Woodward has arrived at this point is something he says has happened in stages. There was the moment in 1998, having decided to provide a statement for a police investigation that led to Bennell's conviction, when he told his family Bennell had raped him for four years as a child. Bennell had even married Woodward's sister.
And there was the moment that sent him into the 'downward spiral' that has finally brought him here: the suicide, five years ago tomorrow, of Gary Speed.
Speed, it is already known, came into contact with Bennell as a young player. Indeed, Bennell claimed in 2012 that Speed was among the kids who had been to his house.
And while that revelation in 2012 was met by a statement from the Speed family, stating that they did not believe the former Wales manager was a victim of sexual abuse (a position they maintain to this day), Woodward understandably feared the worst when news broke of Speed's death.
Those fears, he says, were fuelled by what Bennell told him as a child; stories of his involvement with other young players, perhaps shared with Woodward in a sick attempt to normalise what he was doing to him.
"There were certain things discussed, things Bennell used to say to me as a child, that have haunted me ever since Gary Speed's death,' says Woodward.
"His parents can't accept it and I can understand why they can't accept it. How can you accept that when he is no longer with us?
"And out of respect to his parents, I've always said I can't say much.
"But when he took his life that was a catalyst, a spiral for me. I had a meltdown after that."
Woodward was serving as a detective with Lancashire Police at the time. 'I even went to see a high commanding officer and said, "I can't cope with this, it's ruining me'," he says.
"They assured me, 'Don't worry, we'll look after you'. But within 12 months they put me on the Stuart Hall case. I was on that for a year."
Just talking to Woodward is an emotionally draining experience.
There are moments when he seems energised by the response he has had these past 10 days. Now he is very much a man on a mission. But his fragility is there for all to see, and there are moments when the tears begin to flow and he shakes uncontrollably. During yesterday's BBC interview with his three fellow victims he cried while the others told their harrowing stories.
In the hotel bar Zelda, his partner, is there to comfort him, the two of them having just returned from Wembley for a meeting with the FA.
"I was really nervous going in," he says. "It was only me and Zel. I wasn't expecting to meet Greg Clarke (FA chairman), but they put me in quite a relaxing room. They weren't sat behind a table. And it made me feel immediately that they'd got it. They understood.
"My main objective going in there was to say, 'Us lot, we need some help, are you going to back us up because we've got a lot of issues?'"
"We've lost a lot in terms of our mental health, our families. So I was saying please give us some support and they embraced it massively. Greg Clarke said we're here for you.
"This is my passion now, to see what we can put in place to help all the victims of this move forward. And they were like, 'Absolutely, we want to help you with that'."
Woodward and the other victims, believed to be in their hundreds, have suffered long enough.
"All I can say about 1998 is that I was in a very dark place," he says. "I gave evidence and I was due to go to court that day - and this is the arrogance of that monster (Bennell) - he waited to see on the day whether I would turn up. I say 'I' because of my situation, because he knew me so well, and he waited for each and every victim to see if they would go to court.
"And once everyone said they would go to court he pleaded guilty, so there was no trial."
Woodward says he rejected the initial contact made by the police at that time, partly because of the impact telling the truth would have on his family in the knowledge of his sister's involvement.
"I don't want to talk too much about my sister because of the sensitivities around her," he says. "At first I was probably like every other victim: stonewall, 'Absolutely not, go away and leave me alone'. It took them four, five, six times before I looked around at my family and thought, I've got to do this."
His parents were naturally devastated. But their support has been crucial to him. Woodward's father is now terminally ill with motor neurone disease and unable to speak, but he was able to communicate enough to give his son his backing in going public last week. "What people have to realise is that the parents are victims too," says Woodward.
With every day more stories emerge. Woodward is told Ian Ackley, another victim who spoke to the Dispatches programme about Bennell in 1997, but was largely ignored, has spoken out again.
"If he put himself out there and it wasn't heard, then there is something wrong isn't there?" says Woodward. "That was a big programme. Why (was he ignored)? There needs to be an explanation for that.
"It's exactly the same, what he did. Brave. It's the hardest thing to do but he put his neck on the line to try to help others. There's a parallel.
"I'll give you some insight into the monster the man (Bennell) is. I spoke to a victim last week and he said, 'Andy, remember going to Gran Canaria? I went there as one of seven lads aged 12 and we went for seven nights, and he had every one of us - one every night'.
"And I went to Gran Canaria on one trip. He'd take you out of the country like that with your parents' permission. That was with Crewe. That was chilling. One a night. This thing just keeps evolving."
Woodward adds: "There was another coach at Crewe . . . I'm aware of a complaint that has been made and as far as I know that coach is potentially still involved in football."
Football has had far from its finest hour here. The FA and the PFA are being supportive now, but it was only last year, says Woodward, that the players' union informed him that he could not have more counselling sessions because he had used up the agreed amount of funding.
"I've since been to see the PFA," says Woodward. "Steve and I went and sat down with them and they were nothing but sympathetic towards us. They said we are here to support you.
"I've been told Gordon Taylor (PFA chief executive) didn't know the issue around what happened in 1998."
What Woodward wants now, what they all want, is justice. Yesterday, on the BBC, Walters broke down when he talked about their journey down to London to meet up with Woodward. The train terminated unexpectedly at Milton Keynes, where Bennell now resides on release under the pseudonym Richard Jones.
"When you look at the police investigation, which is a slow process, that man is walking the streets in Milton Keynes," says Woodward.
"Let's look at risk and threat. It's massive. I wake up with nightmares. He's a loose cannon because he knows I've exposed him to the nth degree. He knows more is coming. He could stick a knife in me. Bear in mind us, as a family, we weren't told anything about him, where he was.
"My dad's dying of motor neurone disease. Recently I've been looking, thinking, 'They've suffered enough'.
"They've been victims too. I owe it to my dad, my family, all those people out there still suffering. It's genuine. I know they've gone through shitty lives like I have.
"I spoke to a dad the other day. He said, "I can't believe I didn't see it. I feel so guilty". I told him he's a victim, a bloody victim like all of us.
"Every parent took their child thinking they would be protected. They thought they were giving their kid the best chance to get up there and be a pro. Not to be preyed on by a monster."