New Zealand Maori coach Colin Cooper has confirmed All Black prop Kane Hames will not be allowed to wear a political slogan on his wrist strapping against Munster in Ireland on Saturday.
In the lop-sided win over the United States Eagles in Chicago last week, the one-time Test player sported bandaging with a political statement on it of support for the "Standing Rock" campaign which is trying to halt the US Government from constructing a $3.7 billion pipeline through Native American land.
Cooper was reluctant to discuss the issue on Radio Sport's breakfast show this morning on whether Hames would be allowed to sport the slogan of support again this weekend.
"He's playing for this team and we are part of New Zealand Rugby and Maori culture, that's our drive and that's what we will all be standing for," he said.
When pressed by sports commentator Kent Johns, Cooper replied: "He's been told who he represents and probably moral or political (statements) are not an opportunity to use on this stage."
Earlier, team management and New Zealand Rugby had stopped short of saying they will order Hames not to pen any political messages on his playing gear, including strapping, after news articles highlighting his support for Standing Rock.
It's not the first time an All Black has shown support for a political issue. Former champion flanker Josh Kronfeld was stopped from wearing headgear he had painted a "No Nukes" sign on in protest over nuclear bombs.
Luke Crawford, the Maori All Blacks' team kaumatua, said that while the political statement was Hames' personal choice, the team as a whole did not support individual issues.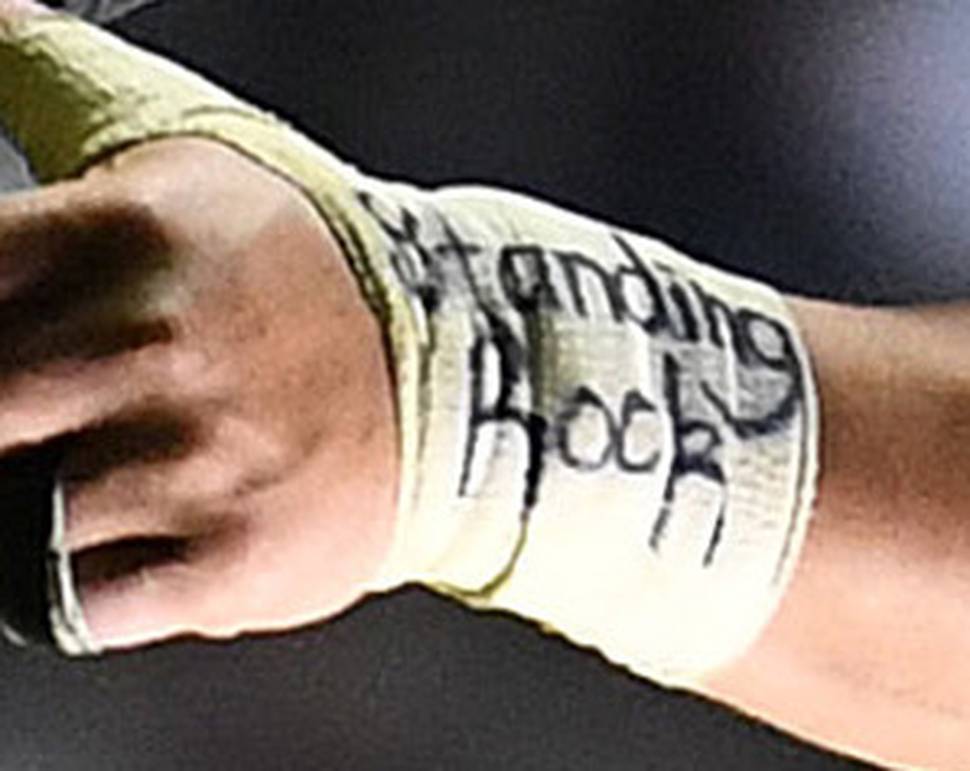 New Zealand Rugby also has set guidelines around what players can and cannot write on their apparel during matches.
According to NZR General Manager Neil Sorensen, "There's an expectation that staff and players do not involve themselves in conduct that may bring their employer, and the game, into disrepute."