New Zealand's Paralympic team arrived in Auckland this morning to an enthusiastic welcome, their collection of 21 medals from Rio draped around their necks.
For swimmer Cameron Leslie, who won his third successive 150m individual medley in a world record time, the growing support for Paralympic sport was what left him chuffed.
"It's been really cool to see the progression of para sports and how everyone is doing it for winning," Leslie, an athlete with quadruple limb deficiency, said.
"There's no participation medals or attitudes going around. Everyone's high performance attitude was great. The coverage back home has helped and that's really been encouraging, how it's upped over the years.
Leslie's gold, in 2min 23.12s broke his world mark by almost two seconds and contributed to the nine gold medals won by New Zealand athletes, and 21 overall, a New Zealand record.
Leslie characterized his three successive gold medals starting in Beijing in 2008 as "the first one was shock horror, the second was satisfaction in going back to back and this was very satisfying with the because the target time was so hard and we nailed it."
Leslie said pre-Paralympic concerns at how Rio would cope with the event had proved unfounded. There was a strong view that the volunteers, who are so essential to the smooth running of major events, enjoyed the Paralympics more than the preceding Olympics because of the humility of the Paralympians who were "happy to sit down and have a yarn with them".
Leslie is planning a month off, then intends competing in ocean swims in the summer and has his eye on taking part in the Kerikeri half marathon.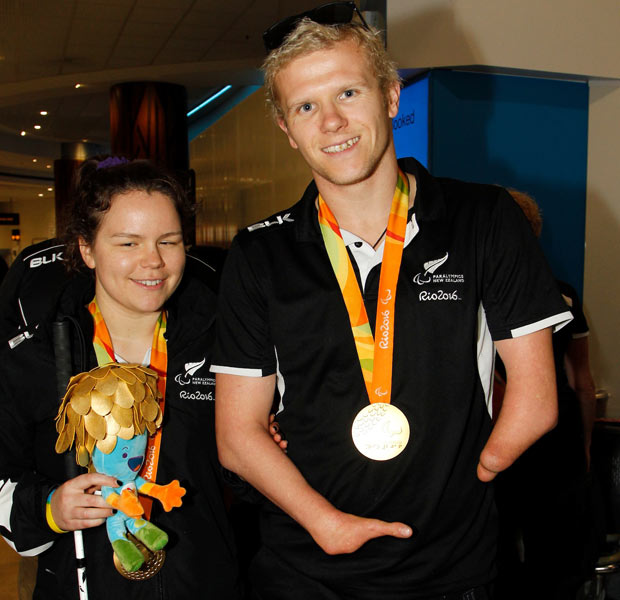 Paralympic medallists Mary Fisher and Cameron Leslie. Photo / Photosport
Sophie Pascoe became New Zealand's most successful Paralympian at the Rio Games winning her 15th medal, following a five medal haul (three gold, two silver).
Pascoe passed New Zealand great Eve Rimmer's record haul of 14 total medals.
Pascoe told TVNZ's Breakfast that is was a strange feeling getting waking up after finishing all her races and not having to head to the pool.
"We've been training for this moment for four years and finally when we get to Rio it's about doing the smaller things right that's going to contribute the performance in the pool. Now when you finish, and in my particular circumstance, I finished four days before the end of the Games I didn't really know what to do with myself," she said.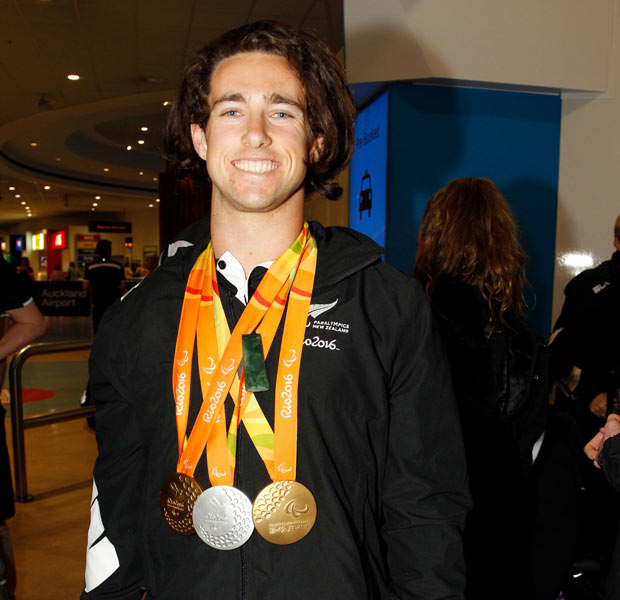 Three-time medallist Liam Malone arrives home. Photo / Photosport
"I was a real shock to the system. To wake up and know that I wasn't going to the pool , I didn't have an alarm set. It was almost a little bit of anxiety there as well. It's quite unusual but it was amazing to get down to the pool and support the guys in their last races."
Auckland swimmer Rebecca Dubber had the honour of winning New Zealand's first medal in the pool a bronze in the 100m backstroke S7 category, clocking 1:23.85.
She was able to produce what she called one of her "trick talents" - sleeping 11 hours on the flight back from Rio to Auckland.
Dubber reflected on the reports the athletes heard shortly before the Paralympics were to begin that Rio was in trouble, with financial shortfalls and ticket sales concerns.
"That kind of had a few nerves on edge, but despite all that none of it was any concern," she said.
"They put on such a great games for us. The accomodation was great, the food was great, the transport was a bit here and there but the competition couldn't have gone any better."
Dubber, competing at her second Paralympics reckoned the vibe of inspiring each other helped New Zealand to their record medal haul.
The 23-year-old, studying for a Bachelor of Communications at Auckland's AUT, is planning some time off to reflect on the last four years' work before deciding whether to commit to the Tokyo Paralympics in four years' time.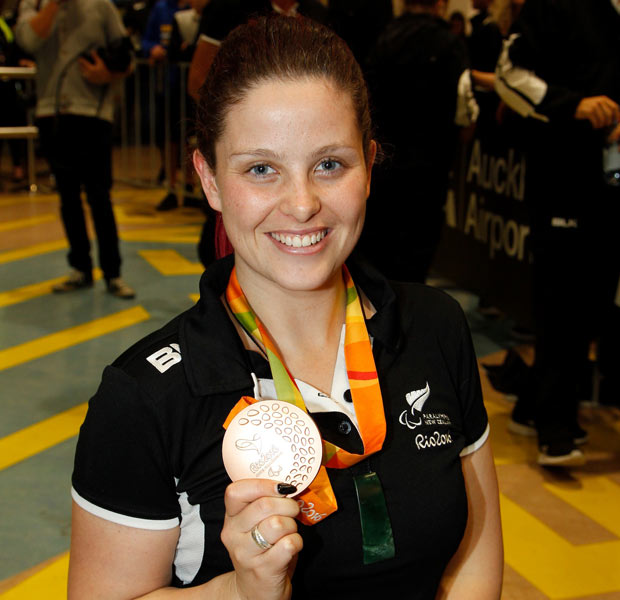 Rebecca Dubber arrives home. Photo / Photosport
For Dunedin athlete Anna Grimaldi won New Zealand's first gold medal in Rio in the long jump in the T47 double limb deficiency category.
She was in the bronze medal spot before leaping 5.62m and, seeing the leaderboard blink up with her name on top, burst into tears.
"What I achieved was 100 per cent not what we had planned. The colour of the medal was a total shock, still is," the 19-year-old Dunedin student said today.
"Getting home and seeing all the support is overwhelming. I'm so happy."
Grimaldi, studying to be a quantity surveyor, said the Rio experience had "opened my eyes to what I could achieve".
"A lot of it is a mind game. You can work so hard but if you don't have the mental skills to cope with the situation like that it can all go out the window."
She's planning "a little break" to catch up with friends and then the world championships in about 10 months time are on her agenda.
While Grimaldi was a Paralympics debutant, Sophie Pascoe, winner of five medals, was at her third. She reckoned a key aspect of success in Rio was "about doing all the small things".
Once her competition was over "I didn't really know what to do with myself. It was a big of a shock to wake up knowing I'm not going to the pool, not having to set the alarm".
For visually impaired swimmer Mary Fisher, winner of a gold medal in the 100m backstroke S11 category, she's not about to sit back and relax. Her next challenge is taking part in the Tarawera ultra marathon from Rotorua to Kawerau on February 17.
"My friends and I decided to do it a couple of months ago. There's lots of off road walking, it's hilly and lots of fun, so that's the big project for the summer," she said.