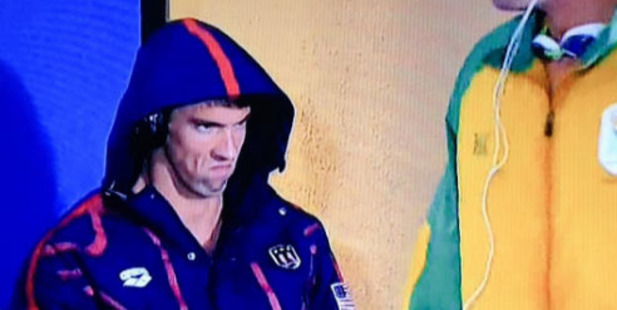 There were no shortage of theories about what was going through Michael Phelps' mind when he delivered one of the lasting images of the Rio Olympic Games.
Prior to his 200m butterfly semi-final, Phelps was caught by cameras staring a hole through South African rival Chad Le Clos, who beat Phelps to win the gold in the event four years earlier in London.
Le Clos, who had been sitting next to the American, stood in front of him and began shadow boxing, which many thought disturbed his rival's mental preparation.
Others thought he may have been possessed.
Whatever the case, Phelps did not look impressed, and Twitter exploded.
Michael Phelps. #Olympics pic.twitter.com/mewOF4N0CI

— nascarcasm (@nascarcasm) August 9, 2016
@cjzero @accordingtobri pic.twitter.com/ZJZS3E06xU

— hehateme2012 (@hehateme2012) August 9, 2016
When you're almost about to catch a rare Pokemon and your battery d- pic.twitter.com/ccmrfCSoME

— XeniJardin (@xeni) August 9, 2016
Michael Phelps // The Emperor #Rio2016 ⚡️Just saying. pic.twitter.com/l6PWJw9m6L

— TIFF (@TIFF_NET) August 9, 2016
Now, three weeks later, Phelps has finally revealed what exactly was going on.
The 23-time gold medallist presented during MTV's VMAs today and touched on the Olympic meme to end all Olympic memes.
He said he was not angry at all, but rather "in the zone".
"Remember in Rio when I made that face that ended up all over the internet?" Phelps said.
"I was in the zone with Future's track 'Stick Talk' blaring in my headphones."
Phelps made the announcement as he introduced the rapper's performance at Madison Square Garden.