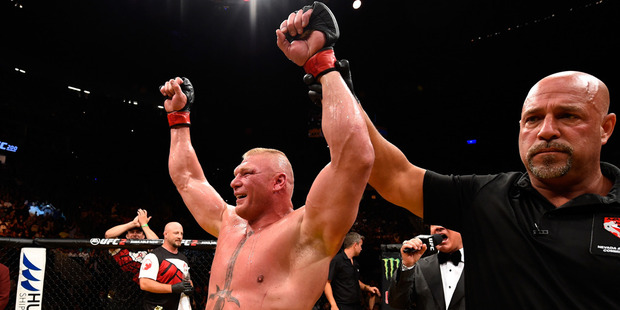 Fans at the UFC's biggest ever event were not left wanting for things to talk about.
After the preliminary bouts kicked off with two monster knockouts, by way of Joe Lauzon and Gegard Mousasi, spectators in the 18,000-plus crowd turned on one of their idols.
Daniel Cormier was booed for his tactics against Anderson Silva, despite the 37-year-old having taken a fight on 48-hours notice against one of the sport's all-time greats.
Brock Lesnar's first appearance in the Octagon in almost five years went down a treat with the WWE community, while fans were distraught after a technical fault caused havoc in the main event.
Here is all the reaction from the epic card.
UFC 200 'An Absolute Joke'
The most anticipated card in UFC history, UFC 200, had every opportunity to reach new heights in viewership and main event ratings.
That would be if the entire card was actually broadcast.
In a disastrous anti-climax for MMA fans, the Main Event showing of the headline bout between Miesha Tate and Amanda Nunes cut out halfway through the first round. The major technical glitch meant that thousands of viewers around Australia missed out on seeing the women's bantamweight title change hands once again, instead watching a shot of the Fox panel staring down at their notes for a costly $50 fee.
A number of viewers expressed their frustrations on Twitter, with many calling for a refund.
@TWiMMAdotcom @Shannon_Clare @MainEventTV @DanDroels I want my money back

— Isaac Hama (@iHAM316) July 10, 2016
Anyone else Foxtel just go cooked then in the last fight? #UFC200 #foxtelfailure

— Scott Pendlebury (@SP_10) July 10, 2016
@Foxtel @MainEventTV thank you for missing the entirety of the #ufc200 main event. @ufc

— Jarrod van der Staay (@jarrodvdstaay) July 10, 2016
@MainEventTV @Foxtel anyone with me to demand we get #ufc on aug 20 for free to make up for the major fail tonight? #ufc200 #ufcfail

— Amy Buzzard (@amybuzz) July 10, 2016
Within half an hour of the bout finishing, both the Main Event and Foxtel Twitter handles started trending on the social media platform.
The Foxtel Australia Facebook page was inundated with angry comments from users demanding their money back.
"What the hell I paid for the main event $50 to watch Tate v Nunes and in the middle of the first round the fight cut out, technical issues we were met with an advert for the fight and missed the submission???," one user wrote.
"What's going on??? There's no way you can expect me to pay for that!!!!"
"What an absolute joke," another said. "We shell out $49.95 to watch what was touted as one of the biggest ever UFC card and you cut and chop the stream seconds into the main event. Very, very dissapointed (sic)."
Foxtel Help responded to an irate customer on Twitter, claiming they were looking into the issue.
"We're so sorry for the interruption to UFC 200," the post said.
"We're looking into what caused this issue will update you as soon as we have more details."
Lesnar's Return
Brock Lesnar stepped inside the Octagon for the first time since 2011, defeating Mark Hunt by unanimous decision. Having spent the last four years in the WWE, there was uncertainty before the fight as to the kind of reaction Lesnar's code-hop would attract from the wrestling community.
As for The Beast's future career path, he wasn't giving anything away. He acknowledged Mark Hunt's ability in the Octagon, but was confident he would always come out on top on account of the toughness he's developed during his career.
"It's way too soon guys. I have no idea," he said in the post-fight press conference.
"I had 12 inches of my colon removed and jumped back in the Octagon three months later. I mean, who does that s**t? Come on.
"I've been gone five years and I step into the Octagon tonight with the guy ranked eight in the world ... I'm the toughest son of a b****.
"If I want to make that decision and keep fighting I will."
UFC President Dana White also addressed the possibility Lesnar could be seen more frequently in the UFC.
"This was a one time deal. He is under contract with the WWE but it doesn't mean we can't do something in the future," he said.
As far as the WWE superstars were concerned, there was no confusion about what sport he would be competing in a few weeks down the track.
blockquote class="twitter-tweet" data-lang="en">
Congrats to @BrockLesnar on the #UFC200 win. See you at #SummerSlam. #VipervsBeast
— Randy Orton (@RandyOrton)
July 10, 2016
Great job kid!! @BrockLesnar . See you @ #Summerslam!!!

— GOLDUST (@Goldust) July 10, 2016
Fellow wrestlers also supported Lesnar's message to all Americans to unite in the face of recent adversity.
Damn right! @BrockLesnar #UFC200

— Curtis Axel (@RealCurtisAxel) July 10, 2016
#UFC200 @BrockLesnar is right. We all need to stick together. Good fight tonight buddy.

— Heath Slater (@HeathSlaterOMRB) July 10, 2016
'Absolutely Disgusting Behaviour'
As if things weren't bad enough for Daniel Cormier, the UFC light heavyweight champion had to put up with sickening abuse from fans at T-Mobile Arena in Las Vegas.
Having taken a fight against Anderson Silva just two days before the event, Cormier was forced to dull down his fighting style in order to contain one of the best strikers the sport has ever seen.
Taking Silva to the canvas in every round, fans weren't interested in watching a wrestling match, and consistently booed Cormier for the duration of the fight.
A number of pundits were disgusted with the childish display from those in the stands.
Absolutely disgusting behavior by this crowd. Would you boo birds prefer if DC just turned down the fight? This is embarrassing.

— Ariel Helwani (@arielhelwani) July 10, 2016
Daniel Cormier beats Anderson Silva by unanimous decision, 30-26 on all 3 cards. The people booing him are not great people #UFC200

— Greg Beacham (@gregbeacham) July 10, 2016
These fans are booing Cormier. He passed his drug test. He took a fight against the greatest of all time in 48 hrs notice. Respect. #UFC200

— Michael Green (@Lyricoldrap) July 10, 2016
Anyone booing Cormier for taking Silva to the ground should have to stand with Silva for 30 seconds

— Steven Godfrey (@38Godfrey) July 10, 2016
The crowd booing Cormier here might be the most obnoxious thing I've ever heard. People really are so dumb. What is he supposed to do?

— Adam Hill (@AdamHillLVRJ) July 10, 2016
McGregor Is Waiting
Jose Aldo's bout against Frankie Edgar for the interim featherweight championship set up the next in line to take on Conor McGregor and compete for the UFC featherweight title. But for Jose Aldo, there was more than just a belt on the line.
The former divisional champion was spectacularly defeated by McGregor at UFC 194 - his first loss in over 10 years.
The Notorious was cageside for Aldo's bout, and stood up for the duration.
Another angle of Conor McGregor standing in crowd during Aldo-Edgar fight (H/T @WebBarr) pic.twitter.com/IWF8qlcHmw

— Darren Rovell (@darrenrovell) July 10, 2016
Casting a stern look into the cage, McGregor made for an eerie picture.
"SOON" - Conor McGregor #UFC200 pic.twitter.com/RUXrxLX3Ut

— Barstool Sports (@barstoolsports) July 10, 2016
Following his victory, Aldo stared down at the Irishman, repeating the words "you're next".
"Frankie's a great competitor," Aldo said. "But I have one goal and it's to beat this guy (pointing at McGregor) and I will beat him."
There was apparently a discrepancy with the Brazilian translator, who used the word "guy", when Aldo actually described McGregor as a "piece of s***".
If ever there is a fight was driven by personal hatred and vengeance, it will be McGregor v Aldo 2.