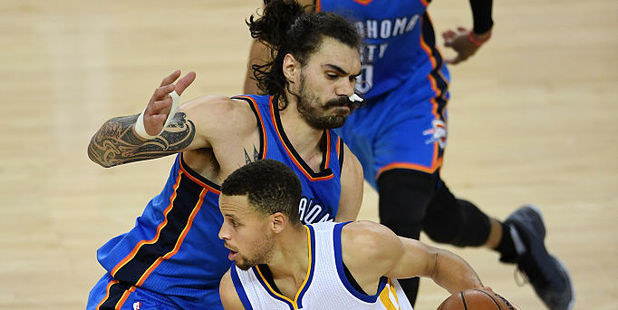 Steven Adams has been criticized on social media following a post-match interview with ESPN's Chris Broussard.
Adams was interviewed after his Oklahoma City Thunder team defeated the Golden State Warriors in game one of the NBA's Western Conference Finals.
During the interview, Adams described his opponents as "quick little monkeys".
Steven Adams called the Golden State Warriors "quick little monkeys" & has since apologized #Warriors #OKC #NBA pic.twitter.com/yTg2ambP7t

— The Fanatics View (@thefanaticsview) May 17, 2016
The reaction to Adams' statement has been mixed, with many people taking offence.
One twitter user thinks they know who Adams would vote for were he an American citizen:
if Steven Adams was an American citizen, he'd be a #Trump supporter... not surprised he's a closeted racist look at him.. not surprised1bit

— Albert J Cardenas (@greenluvAlberT) May 17, 2016
Adams was also referred to as an Australian several times:
Tripping, Steven Adams is from Australia the guy prly calls everyone different animals ??

— jonathan joseph (@josephj23) May 17, 2016
Lol Steven Adams was in Australia his whole life body boxing Kangaroos and chillin with Dingos. I ain't mad at dude

— Luchini (@_Luch1n1) May 17, 2016
People have to realize that Steven Adams grew up in Australia, where there are literal quick, little monkeys running around freely. #America

— Jeff Infield (@infield77) May 17, 2016
The topic was discussed on ESPN show First Take by former NFL player Shannon Sharpe and sports columnist Skip Bayless.
On the show, both Sharpe and Bayless agreed to give Adams a pass due to the circumstances, clarifying that if Adams was born in the U.S. it would be inexcusable.
One twitter user was not convinced:
Shannon Sharpe CLEARLY doesn't know that New Zealand & Australia is as racist as America. Steven Adams too stupid to keep his racism hidden.

— J.C. (@ROMExALMIGHTY) May 17, 2016
Adams later apologized for his choice of words.