David Leggat recounts how New Zealand has won each of our 43 Olympic Games gold medals. Today's golds feature the nation's first gold medallist in Malcolm Champion to Peter Snell's first gold.
1) Malcolm Champion (1912, Stockholm, swimming)
Champion was New Zealand's first Olympic gold medallist and first swimmer to represent the country at a Games. He won gold in the 4 x 200m freestyle relay as part of a combined team with Australia. Champion swam the second leg and built a 10m lead over his American rival. The final was won in a world record time of 10min 11.06s, the third and final time a record was set in that event in Stockholm. Champion was New Zealand's only Olympic swimming champion until Danyon Loader 84 years later.


2) Ted Morgan (1928, Amsterdam, welterweight boxing)
Morgan won his gold despite competing with a dislocated knuckle in his right hand. Born in London, he came to New Zealand when he was one. Morgan was to contest the lightweight division but he was three pounds over the limit and had to move up to welterweight, meaning giving up several pounds to opponents. Morgan died at 46 from lung cancer. He was a non-smoker but his cause of death was put down to inhalation of fumes while working as a plumber. He remains New Zealand's only Olympic gold medal-winning boxer.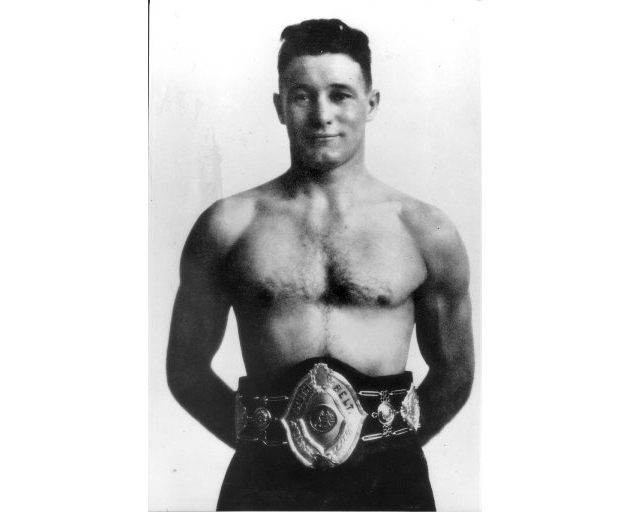 Ted Morgan won New Zealand's very first Olympic gold medal at boxing. Photo / Herald files

3) Jack Lovelock (1936, Berlin 1500m)
New Zealand's stellar history in Olympic middle distance running started with Lovelock when he won gold in front of Adolf Hitler. Before Berlin, he had already proved himself a top class athlete, breaking the British mile record in 1932, setting a world mile record the following year in 4min 7.6s, and winning the Empire Games gold in 1934. In Berlin, he ran what is regarded as the perfect race, accelerating away from rivals with faster basic speed with 300m to the finish, winning in 3min 47.8, another world record. The race produced one of sport's most famous commentaries when 1924 British Olympic sprint champion Harold Abrahams yelled ''my God, he's done it! Jack! Come on!". Lovelock, a Rhodes Scholar, had a successful medical career but was bedevilled by head injuries, dizzy spells and eyesight problems. He died tragically in 1949, falling under a train in New York. He was just 39.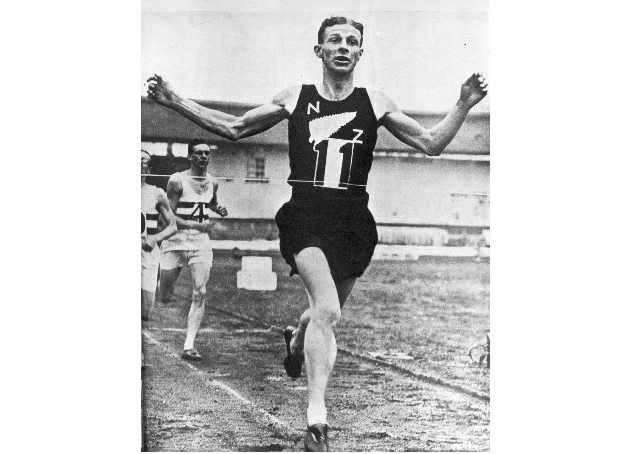 Jack Lovelock won New Zealand's third gold. Photo / Herald files

4) Yvette Williams (1952, Helsinki, long jump)
The gifted young Dunedin athlete was one failed leap away from missing the final six. However she gathered herself and with the thought that ''the New Zealand public expected me to do well, so I thought I can't let everybody down'' in her head she sped down the track and flew 5.94m, good enough for a place in the final. Her fourth leap in the final, 6.24m, was an Olympic record and half an inch of the world mark. No one got near her. A haka broke out in the stands in the rain. Williams was sixth in the shot put, 10th in the discus demonstrating her outstanding allround sporting talents. She received a telegram: ''Congratulations Chickie. Wonderful effort. Mighty proud of you. Dad." She went on to set a world long jump record of 6.28m at Gisborne in 1954 and played basketball for New Zealand and remains among the country's finest athletes.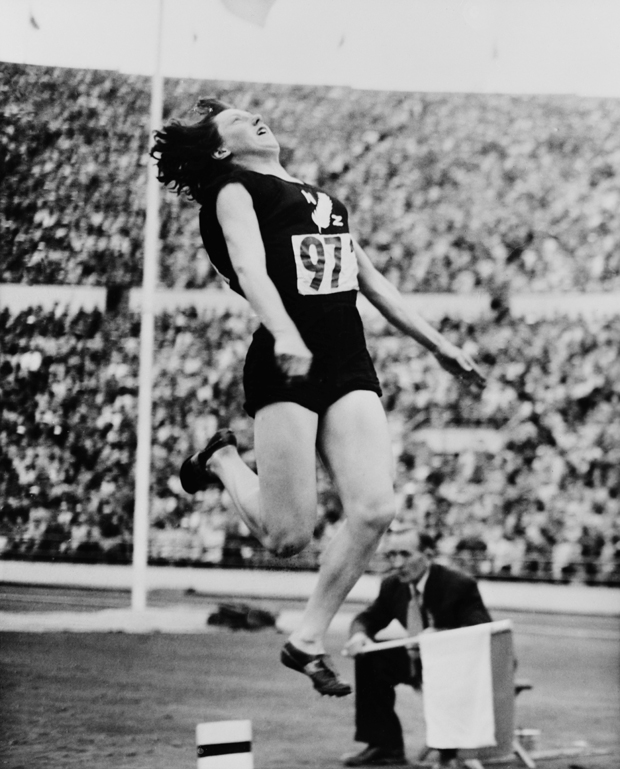 Yvette Williams makes a jump of 6.24 metres to take the gold medal in 1952. Photo / Getty

5) Peter Mander/Jack Cropp (1956, Melbourne, 12m Sharpie sailing class)
The Christchurch sailors thought they had won the silver medal in Melbourne in their boat Jest. They had recorded placings of 2-1-5-4-1-1-2, but believed they'd been shaded by Australians Roly Tasker and Malcolm Scott. The New Zealand men duly went off to celebrate, only to discover the French had protested Australia for obstruction. Several hours later the protest jury upheld the appeal. Mander and Cropp were promoted to gold as they had more wins than the Australians. It was the start of a proud Olympic sailing tradition for New Zealand.
6) Norman Read (1956, Melbourne, 50km race walk)
Read had emigrated from England in 1953 and was initially regarded as an average walker. He was initially overlooked for Melbourne before winning the Australian championship in a time only two minutes outside the Olympic record. In he went, but almost didn't make the start line, getting lost in the maze of passages beneath the cavernous Melbourne Cricket Ground. He walked conservatively as the temperatures went past 30degC. Read made his move with 15km left, soon catching the leaders and was 1min 22s ahead at the 45km mark, winning in 4h 30min 43s. Only six competitors finished the course inside five hours. Read was below par in 1960 and overlooked four years later for the Tokyo Games, despite having argued his case with his second fastest ever walk.
7) Murray Halberg (1960, Rome, 5000m)
Unlike his team mate Peter Snell, Halberg was regarded as a good chance for at least a podium when he arrived in Rome. He had credentials, having won the three-mile gold at the 1958 Empire Games in Cardiff, and he'd been a world class miler in the middle of that decade. He qualified easily for the final in Rome and, running less than an hour after Snell's triumph, he burst clear with three laps left and hung on for victory in 13min 43.76sec. It has since become known as New Zealand athletics' golden hour. Australian distance running champion Ron Clarke called it ''probably the most courageous run in Olympic history". His legendary coach Arthur Lydiard admitted that, unlike with Snell, he had no doubt Halberg would win the gold. In 1988 Halberg was knighted for services to sport and crippled children.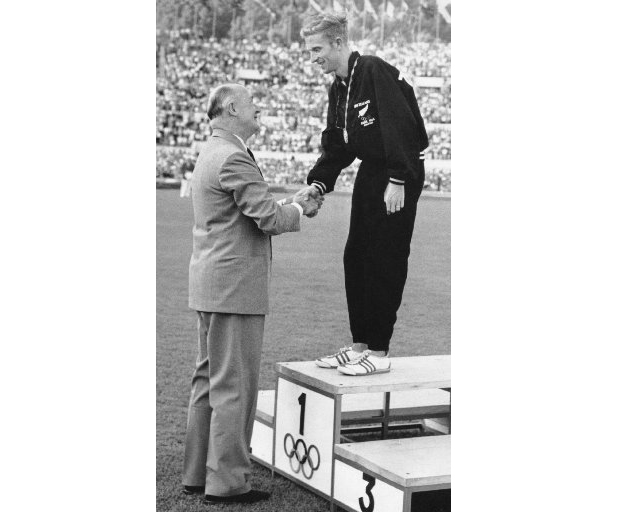 Sir Arthur Porritt congratulating Murray Halberg after presenting him with his 5000m gold medal.

8) Peter Snell (1960, Rome, 800m)
He arrived in Rome a relatively unknown 21-year-old. Peter Snell's job was to make the 800m final. Belgian policeman Roger Moens was favourite. Snell made the six-man final and with a desperate last-gasp lunge, breasted the tape a blink ahead of Moens, in one of the great Olympic photos to clinch gold. Moens, who had beaten Snell in their quarter-final, was shattered. Snell had been fastest in the heats, and won his semifinal. In the final, he posted a new Olympic record time of 1min 46.48sec. It was to be the starting point in the eventual naming of Snell as New Zealand's Athlete of the Century.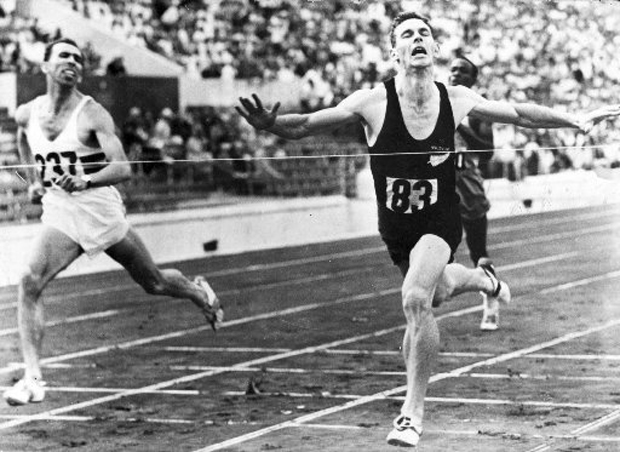 Tomorrow: Golds 9-15