Chiefs 29 Blues 23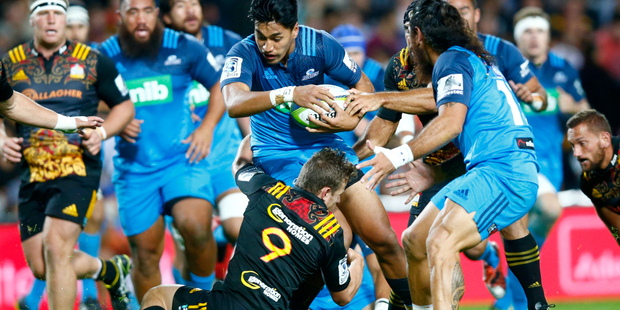 Even if their electric attack was a little subdued in tonight's win against the Blues, Brad Weber was once again a spark that ignited the Chiefs' backline.
And if that trend remains following the Super Rugby leaders' bye, there's every reason to think halfback may soon be doing the same in black.
While Tawera Kerr-Barlow had overtaken TJ Perenara by the end of the World Cup to position himself as Aaron Smith's back-up, Kerr-Barlow himself could be usurped at the All Blacks level if Weber continues to elevate his game.
And, crucially, if he continues to receive enough time to do so. The Chiefs pair had been swapping starts in the early weeks of the season but, with Kerr-Barlow suffering a concussion last month in Buenos Aires, Weber has enjoyed a regular run in the side.
The job-sharing will continue now Kerr-Barlow has returned, especially since neither player has separated himself sufficiently to justify a greater haul of minutes.
Each man has different strengths, as well. Chiefs coach Dave Rennie likes to lean on Kerr-Barlow's defensive abilities, while Weber's speed to the ruck and with the pass has perfectly suited the tempo with which the competition pace-setters attack.
While those attributes were again on display in Hamilton tonight, Weber was solid if unspectacular for the most. He had a huge hand in his side's opening try, always picked the right pass and, on the other side of the ball, completed a couple of good tackles in the open field to halt promising Blues attacks.
Weber, Aaron Cruden and Damian McKenzie form for the Chiefs a trio of options as elusive around the ruck as they are diminutive in stature, and all three men have cases of varying strength for selection in the June internationals. Cruden, ever increasingly, appears a lock to start outside Smith in the first test against Wales, McKenzie looms as an intriguing option sooner or later, while Weber has been raising his hand high for a spot on the bench.
Much will depend on the stroke of Rennie's pen, and past history has shown there will be element of tailoring his selections to the opposition. Facing the challenge of the Jaguares on their home turf, for example, Rennie started Kerr-Barlow before injecting Weber to match-winning effect in the second spell.
A similar formula could be followed in crunch clashes, with Weber's speed even more effective against tiring legs late in games. And all going well, that speed could be an asset in a similar situation against Wales.