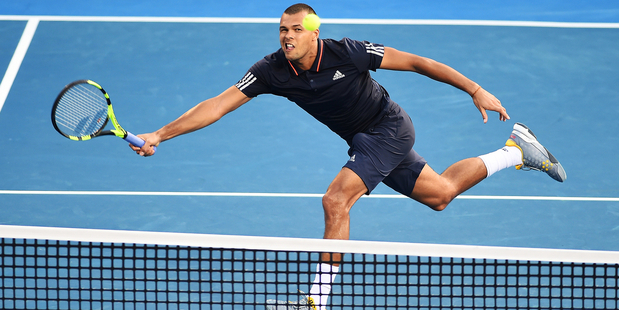 Maybe Jo-Wilfried Tsonga will break his duck and win the Australian Open but time is fast running out for one of tennis's most likeable and perplexing talents.
The world No 9 has never won a grand slam tournament and the reasons why, including his internal struggle between talent and consistency, were on show in his loss to Spain's Roberto Bautista Agut in Friday's ASB Classic semifinal. Tsonga has astonishingly made only one slam final in 31 tries - the 2008 Australian Open when he lost in four sets to Novak Djokovic.
Maybe it's not so remarkable; his career has been in the long shadows cast by Djokovic, Roger Federer, Rafael Nadal and Andy Murray. Although he has beaten them all (a 14-loss, 6-win record against Djokovic; 8-4 against Nadal, 11-5 against Federer, 12-2 versus Murray), he is now almost 31 with little time left to bag a big one.
The conventional wisdom is Tsonga lacks mental strength coupled with a backhand that can go missing.
Sheer talent gets him through his inconsistencies against most but he wobbles under pressure from the big guns.
He is excellent to watch; an all-attack player who, when on song, can beat anyone - witness the 17 wins against the big four. He radiates good humour along with creative endeavour and, even when the sweet stuff isn't flowing, you want his artistry to succeed. His entertainer's heart is on his sleeve, his face something of a Pierrot mask when the ball does not respond to intentions.
His skill is undisputed but he mixes brilliance with inexplicable, basic errors - as in his quarter-final win against Italy's Fabio Fognini when the muse suddenly left him. Typical Tsonga, he should have won the semi but summoned up a bucket of mediocrity after drawing Champagne tennis from the same well minutes earlier. His more dogged, consistent opponent took advantage.
One of his most spectacular shots is the lunging dive volley, where he throws himself on the court, arms outstretched, to get racquet on ball. He dusted it off it late last year in Shanghai, confounding Nadal. Tsonga dived at the ball, managing to semi-lob it to the back of the court as he fell. Nadal took off like a startled rabbit, scrambling it back only to find the athletic Tsonga on his feet at the net in time to hit the winner.
Even Nadal - the great mover, runner, chaser - looked like the statue rather than the pigeon to that mix of commitment and class, innovation risking injury. Tsonga pulled the same trick against Djokovic in their semifinal clash at Wimbledon in 2011, although he lost that one after beating Federer in the quarter-final, coming back from two sets down to win.
His progress since his 2008 run has been alternately uplifting and frustrating. He's a tennis version of the Black Caps, raising hopes before they hit the ground with a dull thud. Some portray him as a happy-go-lucky, free spirit. The reality is probably closer to his words to French sports newspaper L'Equipe: "Basically, there is always a war within me. To be No 10 in the world, for me, is not good. I do not tell myself, 'It's fine, continue to work, one day you'll get there'. No, what I hear from myself is that I am a wasted talent.".
His easy-going nature usually prevails and is maybe his worst enemy. He told the Guardian he often wishes he had been born 30 years earlier in a more fun time. It's a comment on a grinding circuit where he's won 12 ATP tournaments and more than US$16m, but where the professionalism, drive and focus of the top players mean they rarely have time or inclination to step outside the predictable. Another flight, another tournament, another pre-match interview, more banalities about the match, the court and the crowds, practice... then the airport again.
"It's strange because I've known Andy [Murray] since I was 12 - but I don't know him really. Every week we stay in the same city, at the same tournaments, so we're almost together but we just say: 'Hi, how are you?' With [Yannick] Noah and [Henri] Leconte [two former French players on the ATP tour], there was time to go and have a drink with [John] McEnroe and [Mats] Wilander and play the guitar. Today, it's too difficult... for me, it's not just the top four. It's all the players. But it's how the world goes now. Today you just go to the tournament and play. You share nothing."
Australia shapes as his best chance, outside of Wimbledon, to win that elusive major. Nice guys often finish last but you warm to this one when he labels tennis as "not real life... I come from the countryside in France and it's completely different to this life. My parents weren't rich at all. They were normal people and even now it's special for me to be in big hotels and have all the attention. I never get used to it. My parents always taught me not to be a good tennis player or the best in what I'm doing - but to be polite. And so even when I am tired or I lose I try to keep their values.
"Sometimes when I lose, people are so disappointed for me... C'mon, it's only a tennis match. Of course it's important because I love it and I want to do well but afterwards it's only a game... but at the end of my career, even if I don't have a big trophy, I can say: 'OK, I beat Roger. I beat Novak. I beat Andy.'"
To win that major, Tsonga will have to beat himself.