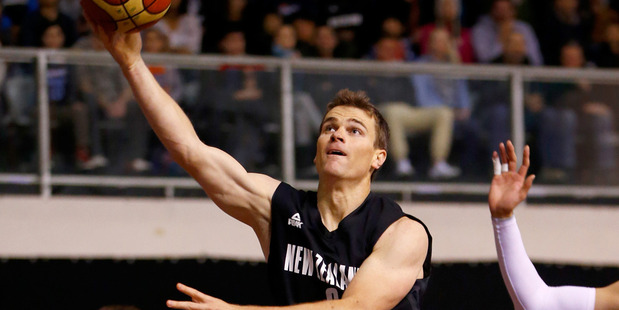 New Zealand 73 Ukraine 61
The Tall Blacks are back in control of their destiny at the Basketball World Cup.
After three losses to open the tournament, New Zealand recorded a decisive 73-61 win over Ukraine in its fourth Group C game in Bilbao, Spain to keep alive hopes of advancing to the round of 16.
The Tall Blacks now know that a win over Finland tomorrow morning will see them progress, unless the Ukraine can do the unthinkable and beat the USA in its final game.
Tall Blacks coach Nenad Vucinic said the 12-point winning margin is crucial.
"Just the win would make it very difficult for us, but [a] win like this makes it so much easier...to go through," he said.
Veteran shooting guard Kirk Penney produced his best performance of the tournament to lead the Tall Blacks with 17 points, while third-string shooting guard Everard Bartlett and back-up forward Isaac Fotu shone off the bench. Bartlett was New Zealand's second leading scorer with 14 points, while Fotu recorded a double-double with 10 points and 10 rebounds.
Penney said they responded to the challenge from their coaches.
"We had a meeting and they challenged us to play much better, execute much better, bring it like men would bring it and I think the guys today really came out and played and executed at both ends of the floor," Penney said.
"We were 0-3, everyone thought we were counted out, like Nenad said, everyone thought we were dead. But now we have a new life."
Everard Bartlett led a Tall Blacks bench, which outscored Ukraine 39-21. The Hawkes Bay guard says they knew they had to step up.
"We need everybody to come in and play their part and do their role in order to win," Bartlett said. "We need to play as a team to get wins and that's what we did."
Teenage point guard Tai Webster got the Tall Blacks off to a strong start, scoring two lay-ups and assisting on two other baskets to put New Zealand up 10-5 midway through the opening quarter. But when he checked out of the game the Tall Blacks' offence spluttered, allowing Ukraine to take a 19-18 lead into the first break.
New Zealand's bench then responded, going on a 12-0 run with Fotu, Bartlett, Casey Frank and Corey Webster all making field goals. While Ukraine soon stopped the rot, Fotu, a University of Hawaii student, showed off his mid-range jump shot a couple more times to give the Tall Blacks a 36-30 halftime lead. New Zealand should have led by more but 12 turnovers kept it close.
Ukraine made a strong start to the third quarter, outscoring New Zealand 11-4, and the eastern Europeans momentarily took the lead. But Penney kept the Tall Blacks in front with a couple of jumpers and Bartlett knocked down back-to-back threes to give New Zealand a 53-45 lead heading into the final quarter.
Bartlett knocked down another three-pointer early in the fourth to pull the Tall Blacks' 16 points clear and ultimately seal the result. The game then all became about points differential, with Ukraine desperate to keep it close and bolster their hopes of advancing to the round of 16.
Turkey's beaten Finland 77-73 in overtime to join Ukraine and the Dominican Republic on two wins in Group C.
Either Turkey or the Dominican Republic will now progress to the next round as group runners-up behind the USA, while the loser of their game tomorrow will join either New Zealand or Finland and Ukraine in a tie-breaker for the final two qualification berths.