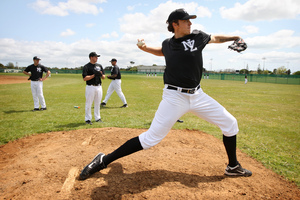 New Zealand baseball pitcher John Holdzkom has been promoted to the Pittsburgh Pirates' 40-man Major League Baseball roster, after stints in the sport's minor leagues.
Holdzkom is American-born with a Kiwi father, and pitched for New Zealand at the World Baseball Classic qualifier in Taiwan in November 2012.
Holdzkom will be released for Pittsburgh's affiliate Indianapolis for their final minor league game today, and will be eligible to be called into Pittsburgh's lineup from tomorrow.
The six-foot-seven left-hander has two wins and two saves to his name in 18 appearances for the Indianapolis Indians with an ERA of 2.49. He has allowed just one home run in 21.2 innings pitched.
The Pirates currently sit third in the National League Central division with 71 wins and 66 defeats. They are two games out of the race for a wildcard playoff spot. Last year the Pirates made the playoffs for the first time in 21 seasons.
If Holdzkom did make his Pirates' debut it would expected to be as a relief pitcher.
No New Zealand-born player has ever played in the minor leagues.
Canadian-born Scott Richmond became the first New Zealand citizen to play in the league in 2008 when he pitched for the Toronto Blue Jays. Richmond's father was also born in New Zealand.
Travis Wilson and Scott Campbell both fell short of call-ups to the MLB after playing years of minor league baseball.
- With Newstalk ZB