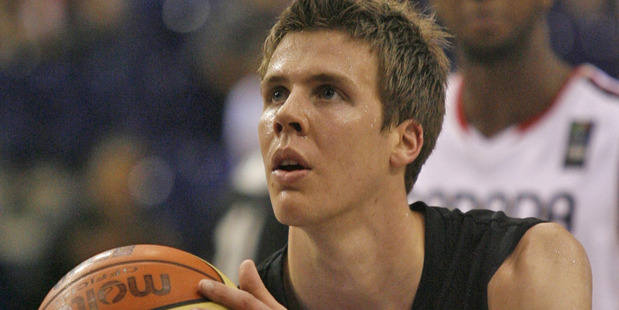 New Zealand 63
Dominican Republic 76
The Tall Blacks have left themselves relying on other results to progress to the knock-out rounds of the Basketball World Cup in Spain.
New Zealand has fallen to its second straight Group C loss at the Bizkaia Arena in Bilbao, going down 76-63 to the Dominican Republic, less than 24 hours after a dramatic 76-73 defeat to Turkey.
With the seemingly invincible USA next up, the Tall Blacks now face the reality of having to beat the Ukraine and Finland in their final pool games to have a chance of qualifying for the round of 16.
"We depend on other scores now. We don't want to be in that situation, but we are in that situation," Tall Blacks coach Nenad Vucinic said.
"Obviously the next game against the USA is a very tough game and a very hard one to get the win back, but we'll just go and play and see what happens," Vucinic said.
"Hopefully the results will go our way and we'll still have some sort of a chance to be in a top four, but it'll be difficult."
The Tall Blacks shot poorly against the Dominicans, converting just 34% (22/64) from the field, including 22% (7/32) from long-range.
New Zealand had targeted the game and Vucinic was at a loss to explain the substandard shooting performance.
"With the shooters we have got, you just get those nights," Vucinic said. "We chose the wrong game to have a night off really."
"In the game against Turkey we shot the ball much better, but today I think we got more open shots than we did against Turkey, but we missed them."
In a losing effort, Tom Abercrombie stood out with 22 points, while Kirk Penney scored 16. But they didn't get enough support. Mika Vukona was New Zealand's next best with 11 points and his court time was limited due to foul trouble.
"We knew this is a game that we really needed to move on and it's pretty disappointing at the moment just to come away with that loss," Vukona said. "Especially after the way we played against Turkey, It's pretty gutting."
"Just mentally you know we had some brain farts out there and it cost us in the end."
Abercrombie scored 13 of New Zealand's first 14 points to give the Tall Blacks a 16-14 first quarter lead. But their offence stalled in the second period, allowing the Dominican Republic to take a 34-27 advantage at halftime.
New Zealand managed to cut the deficit to one at three quarter time, and they momentarily drew level early in the final period, but ultimately they had no answer for Dominican sharp-shooter Francisco Garcia. The Houston Rockets forward scored a game-high 29 points.
"I just feel like they needed me today," Garcia said. "When I've got it going like that, I feel pretty good."
Group C takes a day-off tonight, with the Tall Blacks to meet the USA on Wednesday morning NZT.
Day two results
Group A
Brazil 79 Iran 50
France 74 Serbia 73
Spain v Egypt
Group B
Croatia 90 Argentina 85
Senegal 82 Puerto Rico 75
Greece 80 Philippines 72
Group C
New Zealand 63 Dominican Republic 76
Finland 81 Ukraine 76
USA 98 Turkey 77
Group D
Australia 89 South Korea 55
Lithuania 75 Angola 62
Slovenia 89 Mexico 68