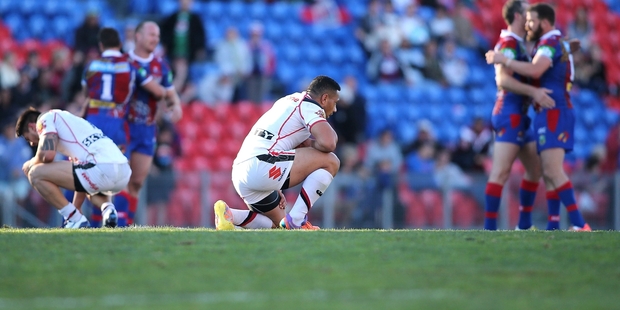 Slip slidin' away. For all the progress made under Andrew McFadden - and there has been plenty - this is starting to feel like yet another Warriors' late-season slide.
It's hard to stomach, especially as the Warriors were seen as playoffs certainties a few weeks ago. They were flying high, the team Australian clubs desperately wanted to avoid come the September finals.
It felt like the 2008 and 2011 seasons, when a confident Warriors went into the top eight with momentum and made a big impact on the finals.
Instead, this late-season fade rekindles memories of the last two years. Remember 2012? After an underwhelming start to the season, Brian McClennan's team enjoyed six victories in 10 games to be on the cusp of the eight in late July, only to freefall with eight successive losses.
Last year, the Warriors managed a five-match winning streak during the Origin period and were touted as premiership dark horses, before losing four of their last six games.
McFadden had his team well placed to storm the finals a few weeks ago, but two wins in six weeks has seen them lose control of their own destiny. So are we watching a familiar fade out?
"Our performances suggest that but, internally, we don't see it that way," McFadden says. "We have made some real ground in our development as a team but we also know that we have to get better."
"It's definitely a slide from where we were and the last three performances have been poor," said Thomas Leuluai. "We have to make sure we try to change it."
Maybe form during the Origin period painted a deceptive picture. They performed well, but also enjoyed the luxury of four out of five games at home, sandwiched around two byes. At the same time, most other clubs were hit hard by the Origin workload.
In the last six weeks, teams have returned to full strength and the Warriors have had to travel to Brisbane, Canberra and Newcastle.
The physical toll of an NRL season also can't be underestimated. The players are well conditioned but the Warriors have a younger squad than most and their depth has been tested.
"We have had some young guys play a lot of first grade this season and that can certainly take its toll," McFadden said. "We have also had to lean on certain guys a lot, like Simon Mannering."
Read more:
*Moguls at war
*Manu Vatuvei: Beauty of the beast
*NRL: Soul-searching gives Warriors focus
"You never feel 100 per cent at the back end of a season but as you get older you learn to manage it," Leuluai said. "It's harder for the younger guys, but we have to get over that. We get paid to perform and we haven't in the last few weeks."
The Warriors will rue not putting the foot on the throat against a depleted Broncos side, or the costly lapses in concentration in Newcastle two weeks ago. This team is undoubtedly a much-improved outfit from the 2012 and 2013 versions, but the similar late slump may see them miss the finals. To have any hope, they will need to continue their recent dominance over the Titans today at Mt Smart. The Warriors haven't lost to the Gold Coast since 2010 but the Queenslanders have regained some pride in the second half of this season.
Late season blues
2012: A decent mid-season run unravelled after close losses to the Broncos and Knights and they eventually crashed to 14th.
Turning point: A 24-22 loss to Manly in Perth, after the Warriors led 22-6 with less than 30 minutes to play.
2013: Seven wins in eight games saw the Warriors tipped as top-four contenders before they lost their next three games to drop out of contention.
Turning point: Losing 18-14 to a crisis-hit Sharks outfit in round 21.
2014: The Warriors haven't managed an 80-minute performance since the 48-0 drubbing of the Eels in round 18, apart from a demolition job on the hapless Raiders. At one stage expected to finish inside the top six, they have now lost control of their finals destiny.
Turning point: Failing to beat the Broncos, who were coming off consecutive losses and had three players stood down midweek. The Queenslanders could now make the playoffs at the Warriors' expense.