On-field he's tough but fair; off-field he embodies family values and integrity. Alan Perrott talks to Warriors hero Manu Vatuvei.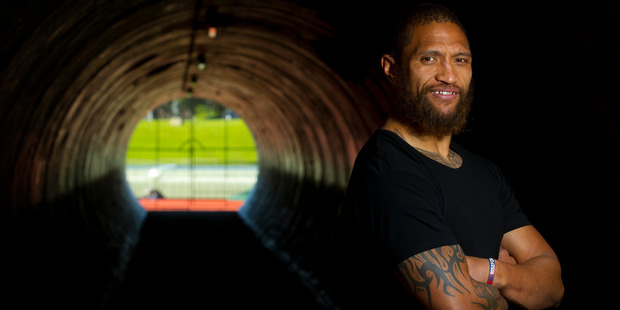 Manu Vatuvei should have been scared.
His heroes were bottom of the table, injury ravaged and punch-drunk after an embarrassingly meek surrender to Manly in their last game. The consensus was that a repeat would see the coach's head on a spike and the rest of the Warriors updating their CVs. It all made this away trip to the South Sydney Rabbitohs a particularly bad time to be making your debut.
The 18-year-old giant also knew he was in for some extra special attention - every newbie is tested for cracks - and if everything turned bad his blond Sideshow Bob afro, huge frame and gold-toothed grin would give him nowhere to hide.
With kick-off minutes away, the team folded into a huddle and promised to do everything they could to support their newest team mate: "They said they wanted it to be a day I'd never forget," recalls Vatuvei.
As much as he was trying to keep his emotions in check, there was no ignoring how much was at stake. Mum and dad were watching. "That's what made me nervous and scared."
Out on the field, he enjoyed a brief moment of anticipation before the reality of the game at this level struck home. He was out on his feet by the time the referee blew time. The Warriors had won 26-12 and the debutant celebrated by banging out the club's victory chant with legends like Stacey Jones.
It was by no means a fairy tale start. He'd been tryless while South Sydney scored twice down his wing, but he'd toughed it out before taking a high ball, spinning in the tackle and launching a play that ended 55m later in a Warriors try. He was happy, coach Daniel Anderson was happy, and more importantly, his parents were ecstatic.
If he wasn't yet "The Beast" he'd shown enough to earn re-selection.
That was all of 10 years ago. Now, with their final home game of 2014 tomorrow against the Titans and another tilt at the club's elusive first NRL title still a possibility, Vatuvei is as elemental to Warriors' fans as the chill wind that often sweeps over Mt Smart.
He's still only 28 - if his knees can hold together he's got plenty of tries left in him yet.
And if he has anything to do with it they'll all be scored for the Warriors, because if family is his motivation, loyalty and stability are Vatuvei's bedrock. It's a simple formula that has produced stellar results - he is one of the top 20 try-scorers in NRL's 106-year history, is one of only two NRL players to score 10 or more tries in nine consecutive seasons, was named the inaugural international winger of the year in 2008, and has been the Warriors top try-scorer for the past seven seasons.
What might be even more impressive is the stuff he hasn't done. For a sport often let down by the behaviour of its too-rich-too-young stars, Vatuvei has never put a foot wrong. You'll never see his name in a story about late night shenanigans and his first judicial penalty for an onfield indiscretion was as recent as June, a month after the NRL's Women in League gave him their annual Favourite Son Award which "acknowledges a player who acts as a role model for mothers and families; someone who continues to impress us on the field, however their off-field characteristics embody what it is we love about rugby league".
The recipient is a player whose "integrity and reputation make the game more appealing to women; someone who encourages mothers to involve their families in rugby league".
Vatuvei fits the bill; his club have even nominated him for the Ken Stephen Medal which recognises the NRL player who has made the most outstanding contribution to his community.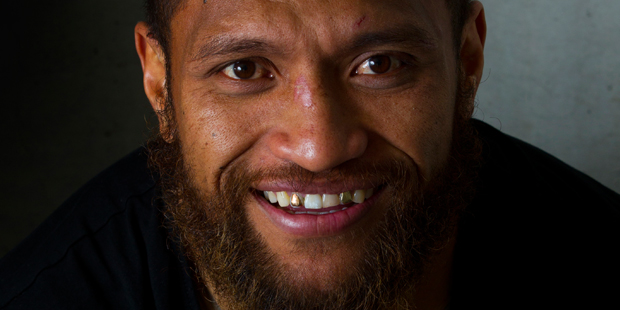 New Zealand Warriors winger Manu Vatuvei at Mount Smart Stadium. Photo / Jason Oxenham
As a kid growing up in Otara, athletics was Vatuvei's first sport. Sprinting, long jump and the odd field event - he shone at them all, until his family's influence saw him become "a hard-out rugby fan." Which isn't surprising, family is easily the biggest part of his life and he is adamant he owes everything to the work and sacrifice of his parents. Woe betide any opponent who dares use them in an onfield sledge.
His father, Siosifa Vatuvei, emigrated from Tonga in the early 70s and worked to buy a home and then fly his wife and three children over. Manu, the fourth of five kids, was born here in 1986.
He says their upbringing was average for the area, meaning his parents were strict, everyone did their bit to help, and with his father a minister in the Free Church of Tonga, every Sunday saw them trooping off to whatever hall the congregation could find. "Back then," he says, "church was just something I went to for the sake of it, a day-to-day thing for myself. I wasn't really connected to it." That's long since changed, as can be seen in his try celebrations, and like his father, he now takes his own family to the Life South Church in Mangere. His father also demanded nothing but Tongan be spoken at home to preserve their island connection.
Vatuvei's first code swap came at nine after a friend convinced him to drop rugby and join the Otara Scorpions league club. Vatuvei was already taller than most other boys, and his parents began taking his birth certificate along to pre-empt the usual age queries. By the time he was 12 he'd moved to the Otahuhu Leopards and was going to his first games at Mt Smart. "I loved it, the crowd and all that, the noise, and seeing the guys playing, they were my heroes. The thought that I'd end up there myself? Nah."
At 14, he was selected for a zonal representative side and caught the eye of 25-test Kiwi representative and Warriors coach-to-be Tony Kemp.
"Well, you couldn't miss him, he towered over the other kids, but the thing I remember most are his tries. He'd run 100m, put the ball down, then you'd think he'd broken his leg by the way he carried on. He'd limp back to halfway, then go the bench and sit down for a bit. Then he'd come back on and score another 100m try. I think he just needed a bit of a rest."
All the same, Vatuvei was considering a return to rugby when the deputy principal at Sir Edmund Hillary Collegiate got wind of it and talked him into playing for his team. A few months later he was bursting into his father's work place to share some joyful tears over an invitation to join the Warriors' development squad. Now he was facing players bigger
and more confident than he was. "It felt really scary . . . there was no under-20 or junior team so you could warm up to it, these were guys way older than me, in their 20s, who were playing (top level club competition) Bartercard Cup. It was tough, much tougher than I expected, but it was great for me. They were really warm to me, the usual for the Warriors. I felt really grateful, but I had to earn my stripes."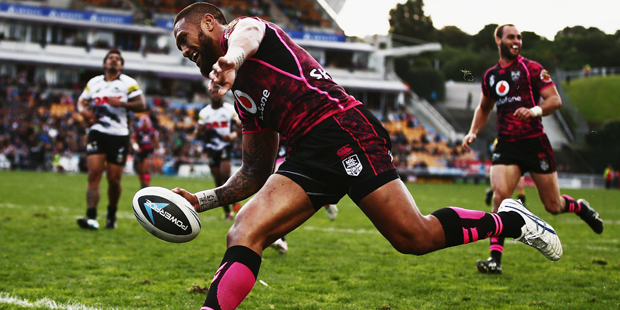 Scoring a try against the penrith panthers at Mt Smart in June. Photo / Getty Images
Vatuvei's dad would drive him to every training, often with both of his brothers in tow, and the family would hit the gym while he went off with the team.
"They'd all be there with his dad on the bike in his jeans and jandals," says Kemp. "He was funny, pretty fresh, and not a word of English. It was typically Polynesian, a beautiful family environment, and it made Manu the man he is today, a real gentleman."
Vatuvei was going on 17 when he was offered his first contract. "That first cheque, it wasn't much but I was really happy." Maybe it was the extra confidence of having a bit of cash, but it was around then that Vatuvei finally asked out Jennifer Ka, the girl he'd been admiring from afar for about five years. They've now been together for 11 years, have three girls, and married in 2010.
This was a time for growth, partying and pushing boundaries, good times he says he got away with because he was still "a nobody; no-one knew who I was. I could just enjoy myself".
His first appearance in the Warriors strip came in 2003 when he was selected for a pre-season warm up game against St George in Hamilton. Then in September he was selected for the Junior Kiwis to play against an Australian schoolboys side featuring Benji Marshall. Each step saw his training regime ratchet up a notch and he admits there were times it got so hard he considered dropping out. Again his father stepped in and started driving him to training earlier so he could put in some extra cardio work on the bike - a team effort that paid off when an injury created the ideal hole for a 1.89m, 110kg teenager to fill against the Rabbitohs on May 23, 2004.
Despite making only a handful of appearances that season, it was an offhand comment from Kemp that earned Vatuvei his now famous nickname "The Beast". Kemp mentioned to Herald reporter Peter Jessup how much Vatuvei reminded him of Kiwi legend Kevin "The Beast" Iro and the comparison became a headline that became a nickname that stuck.
Aside from his obvious bulk, Vatuvei was also the fastest in the Warriors squad and had Iro's mighty fend, but "unfortunately," Kemp told Jessup, "he has his hands as well".
Vatuvei wasn't shy about his goals - he's big on goals - he wanted to be better than Jonah Lomu, play as many games for the Warriors as possible and "score some tries on TV". By 2005 he'd made enough progress to be called into the New Zealand tri-nations side to face England and Australia. Did anyone scare him? "They all did, the (State of) Origin heroes, the club heroes, the guys in our team, I was intimidated by everyone. You just have to deal with it, trust in your skills and remember who you're playing for."
Vatuvei went on to score two tries in the Kiwis' unprecedented 24-0 win over Australia in the final. He has a film of the match, but has never watched it through - he just likes the end when he can see himself celebrating.
In 2006 he missed the birth of his first daughter, Makayla, as he was playing in Wellington. That didn't sit well at all; he revels in his role as provider and protector. He even told his partner to put her career as a personal trainer on pause to focus on family life, and later rejected her suggestion of a water birth for their second girl, Savannah.
Unfortunately he has never had similar control over his image as a player. No matter how many tries he scores, there are some who see his handling lapses as a liability and those voices grew rabid when Vatuvei cost the Warriors a game against Parramatta in 2007. On reflection, he sees that he had become complacent and forgone the extra training sessions that had worked for him in the past. But the scale and persistence of the criticism was humiliating and after a week on the bench it was an angry Beast who retook the field. His comeback became a powerful - if often forgotten - statement; his tries got the team into the finals and in their return match against the Eels he scored the first hat-trick of his NRL career.
The critics then roared back following a 2011 qualifying finals loss featuring a succession of Vatuvei fumbles - until it became known that he'd spent the preceding night in hospital watching over two very sick daughters. He will always put his family first, as he did in 2010 when a contract extension made the then 24-year-old the highest paid player on the club's roster. The first thing he did was buy his mum a new home in old Papatoetoe: "That was one of the goals I gave myself at the start and it's something I'm really proud of, but it's still not as much of a sacrifice as they've done for me."
Family is a highly charged concept for the big winger and it's not for show that he carries the family name along with those of his wife and children (now including 1-year-old Eva) on the strapping on his left wrist; he wears them as tattoos as well. He used to write "Brother" on the strapping for his other arm, in reference to his teammates, but since talking with his pastor he has this year changed it to Philippians 4:13: "I can do all things through him who strengthens me."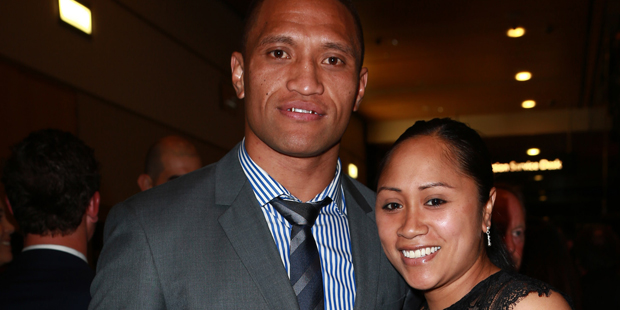 Manu Vatuvei with wife Jennifer. Photo / Norrie Montgomery
It's a line that not only applies to footy and family - he's getting increasingly involved in community work and is putting his free time into promoting Kidz First and the home insulation campaign. The Vatuveis still live in the area he grew up in and he's aware how few people there share the lifestyle and income that league has given him.
But he also knows his playing salary won't be there forever - he might be 28 but his body feels much older - and he makes no secret of his desire to eventually join the police like other Warriors, such as Tone Tatupu, before him. Vatuvei sees it as another way of giving back but it's also a dream stemming from a childhood love of superheroes and superpowers. It was either the police, the army or the SAS, and it only took one SAS training session to show him the folly of that idea.
With an additional two-year extension to his Warriors contract it appears this one-woman man will also be a one-club player with a career mirroring his team's rollercoaster highs and lows, including the loss of his close friend and fellow player Sonny Fa'i in 2009. He says there were times when he could easily have walked away, but for the club's hardcore supporters. "I don't think they know how grateful I've been for their support. It matters and it tells me who the actual fans are; they're not the ones you only hear from when you've had a good game and everything's going well, they're the ones who hold me up when it gets bad. And I'd say to them, you don't understand how much that means to me and how much it motivates me to keep going."
With two more games to go for the Warriors to have a chance at their first NRL title, let's hope the roar of the fans is loud and long.
The Warriors play the Gold Coast Titans at Mt Smart Stadium tomorrow at 4pm.