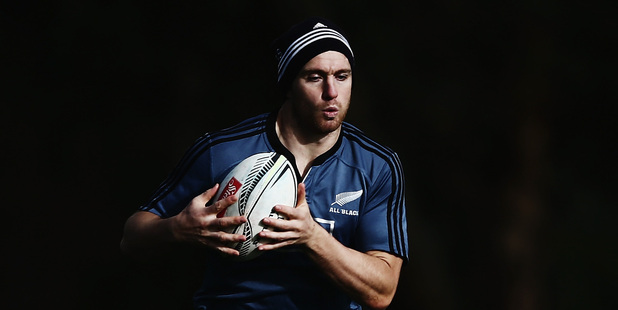 From an inauspicious beginning to his test career, Ben Smith has become the rock on which the All Blacks' 17-test unbeaten run has been built.
If they make history tonight and win their 18th consecutive test, no one will have done more for the cause than Smith.
The 28-year-old is the only player to have started in all 17. He has played 1317 minutes, scored 55 points from 11 tries and been at wing, fullback and centre.
Impressive as all that is, it doesn't tell the full story of Smith's influence and contribution to the run of victories.
It was Smith who blasted off his wing at Eden Park in the first test of the sequence against France to set up the opening try and deliver the continuity that had been sorely missing.
It was Smith who kept popping up in all the right places to score a treble in Sydney last year, Smith who panicked every team he met with his kick-chase work and Smith who chased down the escaping Manu Tuilagi in Dunedin, won the ball back and kept the All Blacks in the contest.
The IRB player of the year judging panel, often notoriously blind to brilliance, couldn't fail to notice how well Smith played last year and how in three tests this year he has almost miraculously raised his game again.
Some of that was due to being switched to his preferred spot at fullback where his two tests against England rightly resulted in him being compared with Christian Cullen.
"We see that another guy has come in and really gone to another level," said All Black coach Steve Hansen on why Smith is starting ahead of Israel Dagg at fullback tonight.
"We wouldn't be doing what is right for the team if we didn't pick Ben on his performances in the last two tests. They were just sensational."
That Smith has developed the way he has is a triumph for his patience, dedication and perseverance. Probably even he never imagined his test career would blossom the way it has -- especially as his first touch in test football was to spill an easy high ball in Milan, 2009.
He recovered from that setback, but the fact he made such a mistake illustrated his lack of conviction that he was good enough to be a test footballer.
He wasn't seen in black again - not on merit anyway - until 2012, when he became a bench regular.
It took an injury to Cory Jane last year for Smith to finally win a starting spot and convince himself more than anyone else that he had everything he needed to be an international star.
"The five or six years didn't go fast," he says of the period between his debut and now.
"I know it felt like at times I was working on my game. I had to bide my time to get my chance as there were a lot of good outside backs.
That dropped ball in Milan was "just one of those things", he says.
"It could happen at any time but it is how you bounce back."
Classic Ben Smith moments
June 8, 2013 - New Zealand 23 France 13
First French test gets a pass mark
The All Blacks were bedding in a new attacking game and couldn't get it to come right. They were bumbling about to no great effect until Smith came off his wing to take the ball at first receiver, scorch through a gap that wasn't there, make 50 metres and then feed the ball back inside to Aaron Smith who scored the opening try. It settled the All Blacks and saw them finally get their game going.
September 28, 2013 - New Zealand 33 Argentina 15
All Blacks trump Argentina 33-15
The All Blacks needed a bonus point from their match against Argentina in La Plata last year to be sure that when they went to Ellis Park a week later, the Springboks would have to not only beat them to win the Rugby Championship, but score four tries in the process. With two minutes remaining it looked as if the All Blacks were going to have to settle for just the victory. Then Smith, having shifted to second-five later in the game to cover injuries, stepped past one defender and then ploughed over the top of another, stayed on his feet and scored between the posts.
June 14, 2014 - New Zealand 28 England 27
Sweet All Blacks win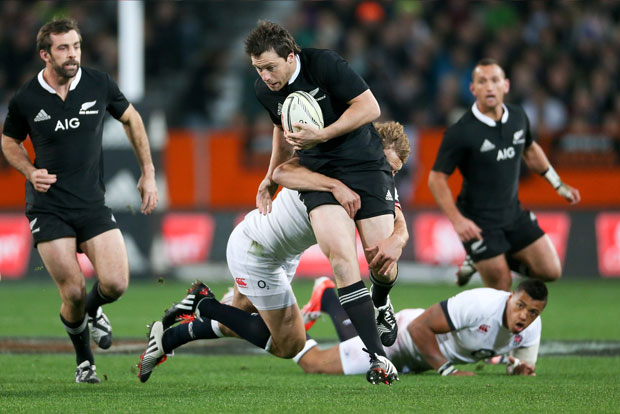 England wing Manu Tuilagi picked up a loose ball in the second test this year in Dunedin and was in the clear. He should have gone all the way - touching down to make it 17-3 on the stroke of halftime. Instead, Smith chased back and caught him on the 22. Not only did he manage to make a brave and effective tackle, he won the ball back, launched a counter-attack and the All Blacks won a penalty to reach the break 10-6 down.