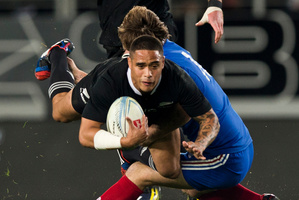 New Zealand 23
France 13
Test match victories are like children - they have to be loved unconditionally. Last night's victory wasn't a thing of beauty. It wasn't a game to revel in the detail, to relive over and over.
The All Blacks won - let's pretty much leave it there. It wasn't convincing. It wasn't a great performance. The important boxes of endeavour, passion and commitment were all ticked - but it was a test and so they should be.
Flair - well, there wasn't much of that. Ben Smith showed a bit and Aaron Smith looked a heap better being shot of the Highlanders.
But no one individually stretched the imagination. Collectively, there was no gasping - no wow factor of where this team may be heading in 2013. So it really was all about the win and, to a lesser extent, getting that always difficult first game out the way.
It's never easy to go from Super Rugby to test football in seven days. The patience has to be infinitely higher in the latter - the speed to the tackled ball that bit greater; the grunt in the scrum that bit more meaningful and it takes time for minds and bodies to adapt.
With a game in the system and the confidence that comes with victory, the All Blacks should be that little bit tighter and more cohesive this week in Christchurch.
They shouldn't be too hard on themselves - for all that it looked like the All Blacks made hard work of it, they did provide just a hint of what might be about to come.
They were eager to whisk the blanket off their brand new attacking game and give it a bit of a whirl. Eagerness came through as anxiety for much of the first half; there were lots of new running lines and some variation on where the ball was shifted to before the contact.
It all looked rather jazzy - but much like complicated gadgets, it left a sense of frustration that for all the clever functions, it wasn't perceptibly better than what it was replacing. The All Blacks were a bit like an over-eager dad keen to build the toy and grab the kudos that comes with that, only to be stumped by the instructions and a failure to work out just what to do with all the fiddly bits.
The simplicity and directness of the French game exacerbated matters. They piled into the breakdowns and were ferocious in their foraging when any All Black runner gave the merest hint of being isolated.
Louis Picamoles, a slab of a man who appears to have been hacked off the side of the Pyrenees, grunted up the slow lanes and his pack waded in behind to deliver quick ball. Out wide, Florian Fritz and Wesley Fofana were a class apart - footwork, speed, vision and a willingness to hunt for space saw them trouble the All Black defence. It was Fritz who drifted right, kept drifting then straightened through a hole that wasn't there before turning the ball inside to his midfield partner who smoked over for the opening try.
Slowly, though, as nerves settled and the game found its natural rhythm, the movements and execution found greater fluidity and accuracy. Ben Smith - as he has done all year for the Highlanders - jumped in at first receiver, shimmied past two tractors stuck in first gear and then fed Aaron Smith for a riposte that was remarkable for its speed and unfussiness.
A few minutes later and another troubled Highlander made steps towards redemption: Ma'a Nonu thundering onto a short pass, stepping past the defence and feeding Aaron Smith who flipped to the rampaging Sam Cane.
When the All Blacks were accurate and direct - they were deadly. When they held onto the ball for more than three phases, they started to unravel an impressive French defence.
There just wasn't enough of those moments to be confident about their prospects in this series and beyond.
New Zealand 23 (A. Smith, S. Cane tries; A. Cruden 2 cons, 3 pens) France 13 (W. Fofona tries; M. Machenaud con; C. Lopez 2 pens)