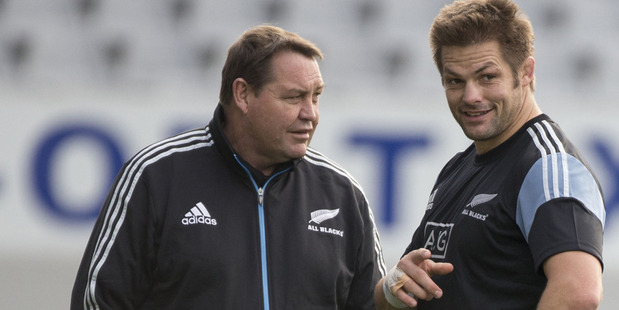 Steve Hansen is "dumbfounded" by Ewen McKenzie's selection of Kurtley Beale at first-five ahead of Bernard Foley for Saturday's Bledisloe Cup test in Sydney, suggesting the Wallabies coach might have been told to select him because of an apparent interest by rugby league.
The comments by the All Blacks coach came this afternoon ahead of the test at ANZ Stadium where Australian confidence will be high following the Waratahs' recent Super Rugby triumph at the same venue.
Foley, named on the reserves bench, kicked the late penalty against the Crusaders which clinched the title for his team, and Hansen couldn't resist having a dig at the decision to put Beale, who played the whole season at No12, into the playmaker's role.
He also couldn't resist raising a question about Beale's goalkicking, and the fact that he believes the Wallabies are putting immense pressure on themselves to win back the Bledisloe Cup, a transtasman trophy the Aussies last held in 2002.
"I was dumbfounded by it a wee bit initially, the selection," he said. "I thought 'why would he do that' and I came to the conclusion that maybe Ewen doesn't trust him [Foley] to do be able to do what he wants against us. Or if you really think about it, the other guy [Beale] is under contract and league are chasing him so you might start to think maybe the ARU has told him he's got to pick him.
"At the end of the day it doesn't matter why he has. Both of them are very good rugby players and Kurtley is certainly a guy who loves to do things differently. He will throw a lot of inside balls to runners so we're going to have to make sure we look after that part of the park, particularly from second and third phase play when guys are struggling to get into position.
"He'll be dangerous. He's not as good a goalkicker as Foley but I guess he'll bring Foley on late in the game and if they need a goalkicker they've got the right one on at the right end of the game."
Asked if he would select a player if the New Zealand Rugby Union told him to, Hansen replied: "No."
Pressed on his "assertion" regarding McKenzie following orders, Hansen replied by saying it was an "assumption".
"One guy has played there all year, the other guy has played seven tests at most in his whole career at first-five, so why would you change that? It was just a thought that came through my head and I'm sure it came through a few other peoples'."
Asked if the All Blacks would try to rattle Beale, he said: "If we're going to win the game we're going to have to rattle a few of them better than they rattle us."
Hansen, warming to his task, added: "There's been a lot of talk about because they have won the Super Rugby they will win the Bledisloe Cup but I think that's rubbish. I don't think there's any correlation at all. It's totally different."
He added of whether Beale's unpredictability would help Australia: "Aussie aren't predictable anyway. The one thing you do know about the Aussies is that they are tough.
They play tough and they like to run the ball. They're under a lot of pressure, which they're putting themselves under, talking about having to win the Bledisloe Cup, they haven't won the Bledisloe Cup, 'this is our year' - I find that interesting. It's no different to any other year. There's two teams in the competition and one of them will win it and one of them will lose it, so they'll look to run the ball and try to run us off our feet."
Hansen said the decision to select Ben Smith at fullback ahead of Israel Dagg, a minor surprise of his own, was down to Smith's form, particularly on the counter-attack.
He said lock Patrick Tuipulotu was unavailable due to a high ankle sprain and prop Charlie Faumuina had strep throat.