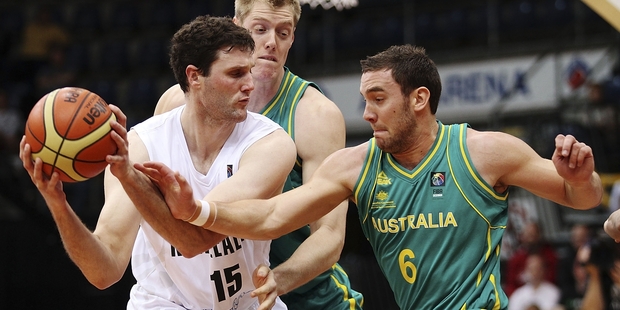 The Tall Blacks have successfully wrapped up the China leg of their World Cup preparation tour, but the team are confronting a new reality - life without Alex Pledger.
The Kiwi side thrashed Ivory Coast 97-63 last night, ending a week-long stay in China that saw them win six games on the trot against Cameroon, Ivory Coast and two local Chinese sides.
The 13-game road trip, which started back across the Yellow Sea in South Korea, will now head through Eastern Europe en route to Spain, where the team's World Cup campaign tips off in Bilbao on August 30.
But the feel-good factor garnered by regular wins has been offset by the latest news out of Auckland on Pledger's injured toe.
Tall Blacks assistant coach Paul Henare seemed resigned to being without Pledger in Spain.
"As far as I know, he's pretty much a no-go," said Henare. "He had a meeting with a specialist back in Auckland [who] advised him to continue wearing a moon boot.
"In our minds, there's just no way he's going to get back in time unless there's some sort of miracle."
The absence of Pledger's 2.15m frame means the Tall Blacks will struggle to live up to their name, the Breakers centre out-inching the other tall timber in the squad, including Rob Loe (2.10m), Nick Horvath (2.08m), Casey Frank (2.03m) and Isaac Fotu (2.03m).
Henare was philosophical about losing Pledger's aerial prowess, noting the starting-five forward lineup in the 2010 World Cup campaign in Turkey comprised Mika Vukona and Pero Cameron, who both stood at around 1.95m.
"It's not a new thing for the Tall Blacks to play without height," he said.
The big man problem is compounded by FIBA's naturalised player rule, which prohibits international teams taking more than one foreign-born naturalised player to a FIBA event.
That puts the American duo of Horvath and Frank in a pistol duel for a World Cup spot.
The squad are currently travelling with 14 players, but that number has to be shorn to 12 by the time they hit Bilbao.
Frank or Horvath will be one of the unlucky two, but the other has yet to be determined.
Whatever the final composition of the squad, it will be a combination of youth and experience.
That continuum is a vast one at the moment, with 33-year-old Kirk Penney, the veteran of three World Cups, at one end and 16-year-old Breakers academy player Tai Wynyard at the other.
The Tall Blacks travel to Lithuania today, where they play three games in as many days against European heavyweights Slovenia (ranked 13th in the world), Lithuania (4th) and Greece (5th), before taking on 11th-ranked Serbia in two games.
Henare acknowledged the European sides would provide a big step up from what the team had encountered in Asia.
"Playing against the likes of Serbia, Slovenia, Lithuania - it's a whole other level. It's going to be good to test ourselves because those are the types of teams we're going to be facing once we get to Spain."
The Tall Blacks have drawn a challenging pool in Spain which includes the United States, Turkey, the Dominican Republic, Ukraine and Finland.