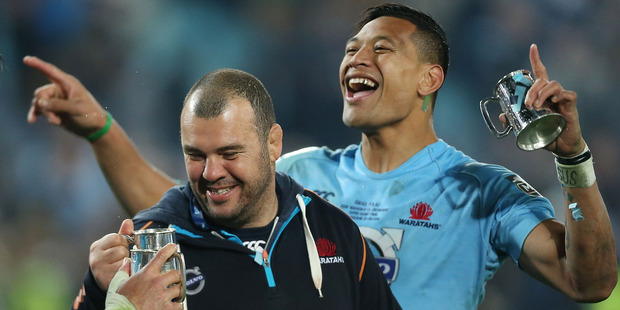 I never want the Wallabies to win - unless they are playing England.
And I have no desire for any Australian sides to succeed in the Super 15.
However, there was plenty to admire about the way the Waratahs delivered their rugby this season and eventually managed to squirm past a disjointed Crusaders' performance in last week's showdown.
It had everything to do with the way they played their rugby and how their coach Michael Cheika bucked convention and orchestrated a Frank Sinatra-style My Way revolution in Tah-land.
Convention and Cheika are not regular companions, apparently, but here was a coach appointed with the usual sort of optimism which swirls through NSW sporting corridors then dies well before the playoffs. This bloke, however, breathed new life and variety into the Tahs' operation.
He was going to do it on his terms. If they wanted him as coach, he was not going to be deterred from several paths. Fitness was paramount, the basics were non-negotiable then the players could add their layers of pizazz.
They were in the entertainment market and to achieve that, the Tahs needed to be rock solid on the basic back and forward functions before they gave the ball some air.
The Tahs were not going to hitch their chariot to the Wallabies' wonky sled, they were going to do their own thing.
Cheika was feisty and confrontational. He challenged his men to show they could do the business and operate with much stronger professional attitudes than they had. There were many hurdles. Torches were lit under players and Cheika had to front inquiries to account for some misdemeanours as his passion boiled a little too close to the surface. But that lust for success provoked the players' ability to supply a historic title.
Is it a coaching method which will endure? Not so sure in these times when players seem to recoil when anyone raises their voice at them. Maybe there's more acceptance of that across the Ditch but we'll get another view next season.
The Chiefs showed how to do it when they won successive titles in their first two seasons with coach Dave Rennie and his crew before falling in this year's playoffs.
Those results and the Waratahs' rise to glory in their second year with Cheika offer every reason to question the Canes' lack of success in Mark Hammett's tenure and the Blues plateaued results in two campaigns with John Kirwan.
Success does not have to be centipede-like or the layers of building blocks we hear coaches talk about which seems to be more an excuse to lengthen their contracts. There can be some luck involved and the chance of a boom or bust cycle but that is more refreshing than everyone playing to duplicate plans.
The Tahs showed the way this season, what chance the Blues in 2015?