More player-friendly tournament with bigger squads will enhance appeal to NRL stars.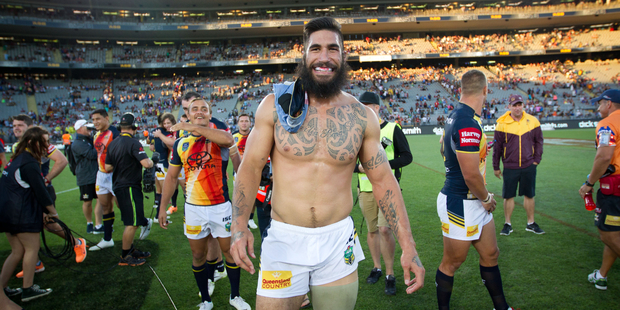 Increased squad sizes and longer rest periods between matches are two changes organisers of the NRL Auckland Nines hope will ease player workload when the event returns to Auckland next year.
The two-day tournament will again be held at Eden Park on January 31 and February 1 next year, with a prize pool of more than $2.6 million up for grabs.
Squads have been increased from 16 to 18 players, effectively giving clubs two full teams, while day two will start earlier to allow for longer rest periods between the last pool matches and each of the quarter-finals, semifinals and grand final.
"The NRL had a good look at the workload and took on feedback from the player group and there was talk at one point of looking at a third day, but the compromise brokered was to increase the squad size and potentially make each day longer so there will be more rotation and more rest time," explained Nines organiser and Duco Events director David Higgins.
"Let's remember the Nines knocks out a pre-season game so the load on the players is no more than it would otherwise be."
Despite the overwhelming success of this year's inaugural tournament, won by the North Queensland Cowboys and played in front of a crowd of nearly 90,000 over the two days, concerns over player welfare were raised by clubs about the amount of football they had to play.
Each club played three pool matches, two on day one and a third on day two, before eight finalists navigated their way through a quarter-final and semifinal, before reaching the grand final.
Warriors coach Andrew McFadden is pleased with the changes and believes they will go a long way to easing the burden on clubs and individual players during what is traditionally part of the pre-season calendar.
"That will make a big difference. It certainly does challenge the players physically and it's a high-risk time of year and they haven't played a lot of football then," McFadden said. "It's a great move by the NRL and the organisers to add those extra two players so we can rotate [them]."
The changes will also help enhance the tournament's appeal for the game's stars; many of the NRL's elite players missed this year's first event after a demanding 2013 schedule which included the World Cup through October and November.
This year's Four Nations tournament will no doubt still have an impact on which players are fit and available come the end of January, but Higgins is confident there will be a greater star presence next year.
"The clubs leave it late and I think the answer is yes, there will definitely be more stars, for several reasons. One, it was a huge success. Two, the players last year had a wonderful time and told their teammates. Three, there's no World Cup. And four, the coaches, believe it or not, like the 31st of January, because they can then do a bit more experimenting and downtime before the season proper.
"You mix all of those four factors up and I think you'll see full-strength or near full-strength [sides] across the board."
Meanwhile, McFadden has confirmed he'll take on the head coaching duties for the Warriors Nines campaign, after his predecessor Matt Elliott stood down and allowed assistant Ricky Henry to oversee the 2014 squad.
"I'll certainly be heavily involved there. It's obviously a pretty important time of year for us as a club and we want to put all our resources into it because, as the hosting team, we want to make sure we're well prepared," he said.
NRL Auckland Nines
• January 31 and February 1.
• 16 NRL teams with 288 players competing.
• Star players are contractually guaranteed.
• Squad size has increased from 16 to 18 players.
• Teams will be made up of nine players across four pools of four.
• $2.6 million in prize money.