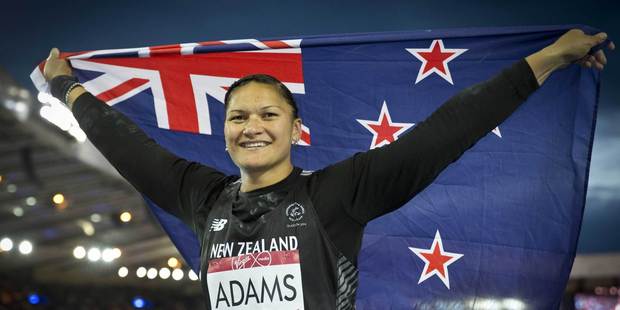 Valerie Adams made no race of winning her third Commonwealth Games shot put gold medal on a cool night at Hampden Park.
After having a no throw to start, Adams flung out a throw of 19.88m and no one got close.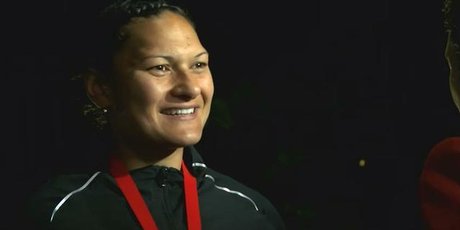 With one mighty heave, what the gold the athletic world knew was a formality was officially confirmed.
Adams thus equalled Val Young's record of three golds and one silver Games medals.
Young won the titles in 1958, 1962 and 1966, with the second placing at Christchurch in 1974.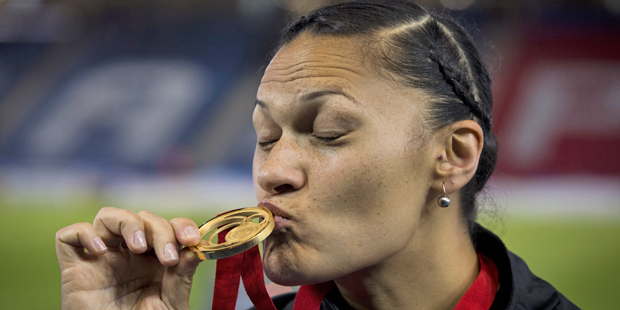 Valerie Adams celebrates with her gold medal. Photo / Greg Bowker
Adams followed up with throws of 19.58m, 19.76m and 19.79m to wrap it up, along with a second no throw on her fourth trip to the circle.
It is Adams 12th win of the year and her 54th successive title, dating back to August 2010. It is also the 600th Games medal for New Zealand.
Adams towered over her 11 rivals as the athletes were introduced to a packed stadium.
After her opening miss, she paced about behind the circle as if just itching waiting for a chance to atone, and stamp her mark on the night.
The only thrower who got remotely close - and that is using the word loosely - was Trinidad and Tobago's Cleo Borel, whose best effort of 18.57m with her second throw, won her the silver medal.
Bronze went to Canadian Juli Labonte, with a best effort of 17.58m, a distant 2.3m behind Adams.
Adams didn't manage to match her year's best outdoor distance of 20.46m at the national championships in Wellington in March. And her Games record of 20.47m from New Delhi four years remains intact.
Her Wellington performance is also the best mark by anyone for the year, although Adams put up 20.67m at the world indoor championships in Sopot, Poland.
Adams flung her arms in the air after completing her sixth and last throw, and hugged her rivals.
Adams admitted her performance today was "a bit flat".
''There is the big hype of the Commonwealth Games, but the aim of the game is to come and win and we were able to successfully do that," she said.
"I wanted more, but hey I won by 1.3m. Winning by another 2m sure I would have got the championship record but I'm pretty happy to be taking this puppy home."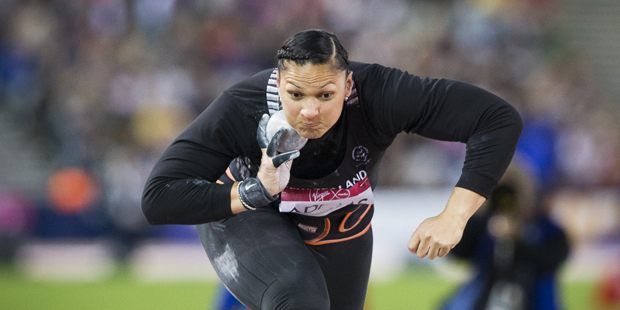 Adams in action during the shot put final. Photo / Greg Bowker
Adams acknowledged the cool night air during the event - "let's just say Valerie's body is a little bit sensitive to cold weather, hence the big thermal top which is something I never do."
She was chuffed to become the winner of New Zealand's 600th Commonwealth Games medal, just pipping weightlifter Stav Chalaev's silver across the city.
"A Games three peat and the 600th medal, I'm honoured and very privileged."
Adams has four more competitions to come, a mix of Diamond League, which she is again the dominant performer, and a world cup in Marrakesh.
Adams sat down at times, and walked around with a white towel draped around her neck, to guard against the chill in the night air.
But when it came time to deliver she was too hot for a field who must wonder when the day will come when they are genuinely contesting for gold on the world stage.
For now it's about silver and bronze, while the champion Adams owns the event.
It was fitting that an athlete of Adams' stature brought up New Zealand's 600th Commonwealth Games medal.
The haul includes medals won in the Games' previous incarnations - the British Empire Games, the British Empire and Commonwealth Games, and the British Commonwealth Games.
New Zealand is the fourth nation to reach the 600 medal mark, following Australia, Canada and England.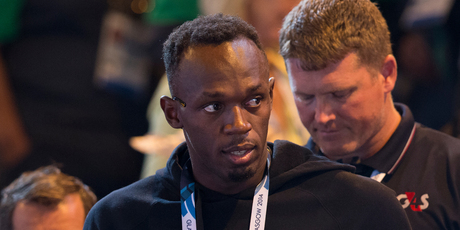 Adams admitted this year had been a challenge and she was "pretty stoked".
''And it's my coach's birthday (Jean Pierre Egger) so I can't wait to go and celebrate".
Adams conceded that had one of her rivals produced a serious challenge "maybe" she could have gone further.
"But the gold medal was wht I came for and that's what I'm taking home."
Adams will leave Glasgow on Friday to return to Switzerland and get back into training.