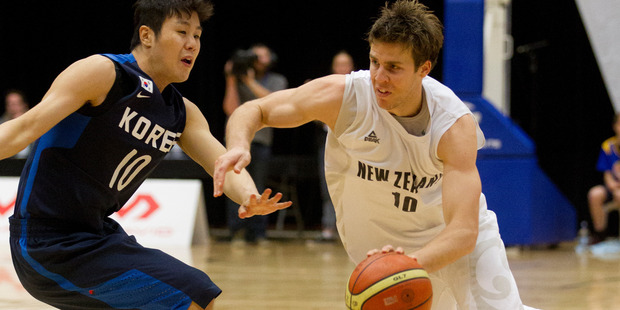 The Tall Blacks were beaten 64-58 by Korea in Seoul last night.
The home side resisted a fourth quarter surge from the New Zealanders to take the first of a two game series in Korea this week.
Korea went to the halftime break ahead 31-25 thanks to a late rush of scoring in an otherwise low scoring encounter, and maintained a healthy margin throughout.
Korea lead by 10 with just over a minute to play before the Kiwis launched a late assault that run out of time.
The Tall Blacks outside and free-throw shooting was an issue on the night, making just 3 of 23 from long range and 7 of 14 from the line.
Assistant coach Pero Cameron said it was a more than solid workout for the Tall Blacks and while they struggled to score, the defensive effort was solid.
"This was a tough game, tough for us to score. It was a good defensive effort but we didn't score the points we needed in the second and third quarters and shooting 3 of 23 from the three point line, no team is going to win off that percentage.
"But defensively we played well, it was a tough game and we had our chances in the fourth quarter."
Cameron did see some positives.
"We are pleased with what we are getting from Isaac (Fotu), he is playing very well and had 18 and a half minutes tonight.
"Jarrod Kenny was able to get a game under his belt after his injury but we just couldn't get the ball in the hoop, a lot of our looks were open but the Koreans played a good style of full court defence.
"This type of defensive pressure from Korea is good for us looking to the World Cup."
Point guard Lindsay Tait said the Tall Blacks were not surprised at what they faced in Seoul tonight.
"Tonight was nothing that we didn't expect to come up against, but compared to the first three games we shot the ball poorly and that came back to haunt us.
"But we can't rely on outside shooting to win games at this level and we will have to make adjustments."
The game was the first on the road for the Tall Blacks as they head towards the FIBA World Cup in Spain.
Head coach Nenad Vucinic rested both Nick Horvath and Casey Frank as they look to overcome niggling injuries and gave Rob Loe his first minutes of the campaign following an appearance in the NBA Summer League.
Game two in Korea is on Thursday night before the Tall Blacks then head to China to continue their preparation for Spain.