Kiwi cyclist deserves a better outcome at Games after bold but unsuccessful dash for a Tour stage win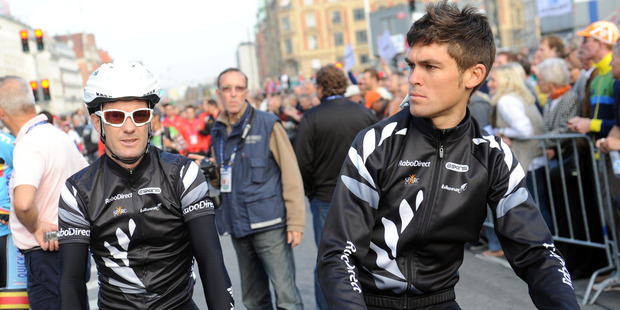 Jack Bauer cried, and it would have been easy to shed tears with him. The Kiwi cyclist's amazing tilt at a stage win in the horrendously gruelling Tour de France was up there with the best sports action of the year, or any year. His ride won't win any of the yearly awards but could do if there were categories such as best drama in a sporting event, or best performance by a supporting sports person.
Bauer's heroic bid for glory was mown down by a pack of sprinters just metres from the finishing line in Nimes. Those final revolutions were both gripping and agonising to witness, having watched two men do the almost impossible by holding the chasers at bay for so long in a stage of cycling's most famous race.
There is so much sport on TV nowadays that the senses can get dulled, but every now and then something fresh and inspiring pops up. Watching Bauer and Switzerland's Martin Elmiger hang on to their 220km breakaway tandem would have been riveting enough anyway, even if Bauer wasn't a New Zealander.
That he was a largely unheralded rider from our shores - a Kiwi has never won a Tour de France stage apart from team time trials - made it scarcely believable.
As a "domestique" - a servant - Bauer may not get a chance like this again. With his team leader out, he'd been given a licence to thrill. And he went for it.
Team leaders such as - dare we mention the name - Lance Armstrong are truly amazing athletes but they also lead a charmed life. Each has eight other riders, or domestiques, doing the grunt work for them, looking after their every whim, covering opposition moves, sheltering them from the elements.
An inadvertent benefit of the Armstrong doping scandal is the extra peek it has facilitated into tour cycling and the relationships between lead riders and everyone else. There really is no other sport to compare, where so many competitors give so much for a few.
Maybe cycling has a parallel - the orchestra. Behind every concertmaster sit violinists who probably all dreamed of individual greatness before coming to terms with, or maybe not fully coming to terms with, how to keep doing what they love and earning a living in someone else's shadow.
Filmmaker Alex Gibney's just released documentary The Armstrong Lie, a fly-on-the-wall piece with luck on its side as the doping scandal unfolded, included an estimation that during some of Armstrong's French tour "victories" he held a lead position for only three to five minutes during the entire race. It has also been estimated that in the worst conditions, riders ploughing into the wind at the head of the pack work up to 40 per cent harder than those "drafting" behind them.
A former British professional cyclist, Charly Wegelius, wrote the book Domestique: The Real-life Ups and Downs of a Tour Pro.Wegelius actually preferred the support role to that of shouldering team leader pressure. He also wrote that the cheering crowds "couldn't know what it was really like ... they didn't see the terrible hotels, the crazy egos, or all the shit that goes with great expectations".
Canadian Michael Barry, who was part of Armstrong's disgraced team, has written: "I never needed to be in the spotlight or desired that. The satisfaction of a domestique is really an internal thing. You celebrate on the team bus but it's rare that you get to celebrate publicly with the winner. You just take satisfaction in a job well done. But watching my teammates win and being a part of that win is really nice."
Bauer's ride was like the butler taking tea with his lordship. It ended in heartbreak but has raised anticipation of the Commonwealth Games road race. How wonderful if he finds glory in Glasgow.