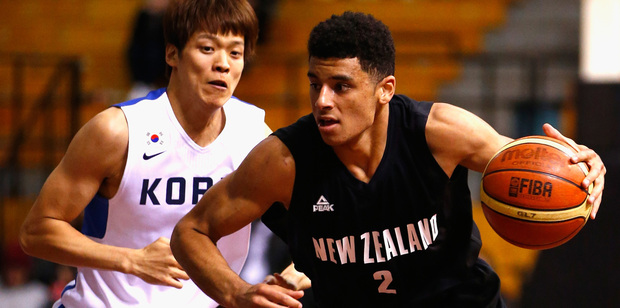 The Tall Blacks will leave New Zealand to continue their preparation for next month's World Cup with a winning feeling.
With their series against Korea locked at 1-1, Nenad Vucinic's side took the deciding test with a 89-81 win at the North Shore Events Centre tonight.
New Zealand were upset 76-75 in game two in Tauranga on Thursday, having ambushed the world No 31 Koreans in the first outing with a 102-69 win in Wellington two days earlier.
Kirk Penney, playing his first matches for the Tall Blacks since 2011, continued his high-volume scoring as the former Breakers shooting guard poured in a game-high 26 points.
Penney's scoring and experience will be vital for a youthful Tall Blacks side as they head towards the World Cup.
The Tall Blacks were without big men Nick Horvath (back) and Alex Pledger (toe) through injury for tonight's game, while point guard Jarrod Kenny (ankle/foot) remained on the sidelines and Jack Salt and Tohi Smith-Milner weren't required.
Horvath tweaked his back during game one in Wellington on Tuesday and isn't expected to be out for long, while Pledger's ailment will be of greater concern to Vucinic.
The 2.15m Pledger is likely to be out for a month and will miss the side's upcoming trip to Korea and China as they continue their build-up for next month's World Cup, which also includes stops in Europe after they have been through Asia.
Given the global tournament gets underway on August 30, Pledger may have to prove his fitness to Vucinic to make the cut but there's little doubt the 27-year-old would be part of Vucinic's preferred playing roster is he was available.
Kenny missed all three games of the home series against Korea and given the lack of options at point guard, Vucinic will hope he makes a quick recovery.
Corey Webster and his instant offence from the bench may be forcing Vucinic's hand to consider him for the starting point guard role as Lindsay Tait continues to provide steady, although not substantial production.
Webster, who has the ability to create his own shot, scored in double figures during every test against Korea and would provide the Tall Blacks with a more up-tempo game, while Tait is more of a facilitator.
Moving Webster in to the starting line-up would lessen the impact of New Zealand's bench, which is one of their strengths given the play of reserves Isaac Fotu and Benny Anthony.
The Tall Blacks played from in front from the first quarter tonight and despite trailing by more than 20 points during patches of the game, the Koreans, who enjoyed strong support throughout the contest, stuck around.
With four minutes left the Koreans brought it to within 10 but the home side held on and they will leave for Asia in a week with an element of confidence after this home series.

Tall Blacks 89 (Kirk Penney 26, Tom Abercrombie 14, Corey Webster 11)
Korea 81 (Sun-hyung Kim 17, Tae-jong Moon 13)
1Q: 24-14, halftime: 52-32, 3Q: 78-60
- APNZ