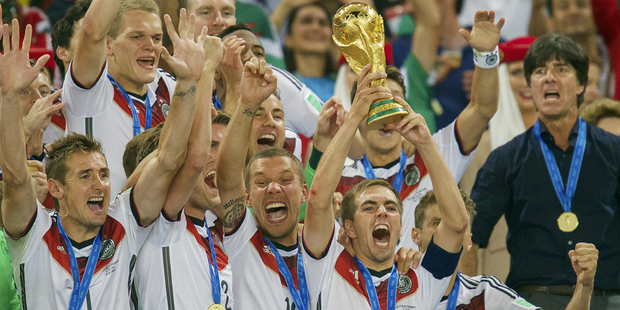 Germany used to be the team we all loved to hate - but that has all changed over the last few years.
It wasn't much fun to watch German teams in the 1980s and 1990s.
They had a grinding, almost robotic style, with little room for flair or expression. Add in some awful haircuts, villains like Harald Schmacher and the fact they always beat England, and there was much to dislike.
However, that has all changed over the last few years. They played some of the most attractive football at the World Cup and totally embraced the Brazilian experience, becoming favourites among many neutral fans.
Here are ten reasons to love German football.
1. Their players don't dive
It's refreshing to watch the German team, who in the main, try to stay on their feet and avoid much of the histrionics that characterise the Latin and Central American teams, Italy, Portugal and even Holland (well a certain winger anyway).
2. Style and substance
Germany's style, which involves precision passing at pace and constant overlapping runs by their wide players, is a pleasure to watch. It has consigned the Spanish Tiki-Taka, which was meant to be the way of the future, to history.
3. Their fans keep it simple
Throughout the World Cup many of the teams were accompanied by in-depth, clever chants, the most noticeable Argentina's "Brasil, decirme que se sientas" (Brazil, tell us how it feels..) which became an anthem of the tournament.
The German supporters, bless 'em, seemed to have two chants on auto rotate. The first was "Deutschland, Deutschland, Deutschland" and the other was "Mannschaft, Mannschaft, Mannschaft" (Team). Though, they also did a spine-tingling rendition of "You'll Never Walk Alone" after their 7-1 demolition of Brazil.
4. They are ice cool under pressure
The last time a German player missed a penalty in a World Cup shoot-out the late Sir Robert Muldoon was Prime Minister, Lorde wasn't even born and ET had just been released.
The Germans haven't missed a single attempt since 1982 and have won all four World Cup shoot-outs they have been involved in.
5. Their enduring respect for Wynton Rufer
He's is probably our greatest footballer of all time, but Wynton Rufer would be just as recognised on the streets of Munich and Bremen as in in Auckland or Wellington.
Rufer was a common reference point whenever you spoke to German fans in Brazil, and mentioned this country.
"He was a legend," said one fan from Stuttgart. "He was a good guy and a great player - Kiwi Rufer".
6. Their consistency
They've never missed advancing to the knock-out stages of a World Cup and between 1986 and 2010 didn't lose a single World Cup group game.
Germany has also reached the final four at 12 of the last 16 tournaments (the next best nation is eight) and a record eight finals.
7. Bundesliga teams are still actual football clubs
In the Bundesliga, no outside investor can own more than 49 per cent of a football team.
It means that German clubs can maintain their history, tradition and some semblance of financial sanity. They don't become playthings of Arab sheiks, American billionaires or Russian oligarchs with their mammoth wallets and oversized egos.
8. They learn fast
Per Mertersacker had a disappointing game in the second group game against Ghana, when Germany were fortunate to escape with a 2-2 draw. His role was significantly reduced during the knock-out stages of the tournament.
9. Perfection is the goal
In the dying minutes of their semifinal hammering of Brazil, Mesut Ozil missed a simple chance when clean through on goal. Germany was already 7-1 up at the time, but coach Joachim Loew was furious with the Arsenal midfielder from the sideline.
10. They don't play for penalties
Despite their prodigious ability from the spot (see No 4 above) they don't tend to play for penalties.
In Monday's World Cup final Germany was the team that put the accelerator down in extra time - and were rewarded - while late in the second round match against Algeria they were still pushing forward despite only holding a slender 2-1 lead.