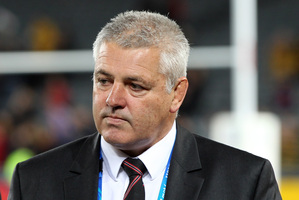 Nothing beats first-hand inspection of the All Blacks, certainly not for Six Nations coaches intent on getting their squads near that level of success.
Stuart Lancaster got the most intense view in June with England's test series, Joe Schmidt brought his Irish reconnaissance to fit in with a holiday and Welsh coach Warren Gatland is here until the end of August.
Bledisloe Cup tests next month will fill his focus as Wales host the All Blacks and Wallabies in November, along with Fiji and the Springboks.
"That will be a big campaign for us but I've always felt the only way for teams to get better is to play more of the good sides," he said.
Sometimes players were not put under enough heat or were not tested enough during the Six Nations but visits from the Southern Hemisphere gave coaches a much better measure.
Gatland's last official rugby business was last month in South Africa when Wales lost the test series 2-0 but should have won the last test by 15 points instead of losing by one.
"It's always been the way when we play teams from here," he said. "It takes us some time to get going. I'm not sure what the solution is in getting up to speed with the pace, intensity and coping with the physicality.
"We should have won the second test and we came away knowing on our day we have the opportunity to be one of the best teams in the world, although there is a gap between all of us and the All Blacks."
Wales have been drawn in the toughest pool for next year's World Cup where they have to deal with the Wallabies, Fiji and England if they are to make it to the playoffs.
"If you come out of that pool you should be in a strong state to carry on," Gatland said. "It might be better than New Zealand's draw, where is their challenge in their pool? Where is the intense preparation they missed out on in 2007?
"That is one element from stats I got on New Zealand in World Cups. The other is they probably don't realise it but they change the way they play in World Cups in big games, it's almost like the shackles come on and they tighten up a bit," he said.
Chiefs' utility Gareth Anscombe was expected to head away to play for Cardiff under new coach Mark Hammett in Wales.
"I spoke to him about six months ago and said there was no pressure at all given his age. But I said if he wanted to have a crack at making the World Cup squad it would be better if he came over this year."
Gatland's sharper focus is on the Super 15 finals and the All Blacks' attempt at a world record-winning sequence against the Wallabies.
"I'll try and get up to Eden Park to see the Wallabies when they come over after the test in Sydney. Any time you get a close look at teams you find out something useful."