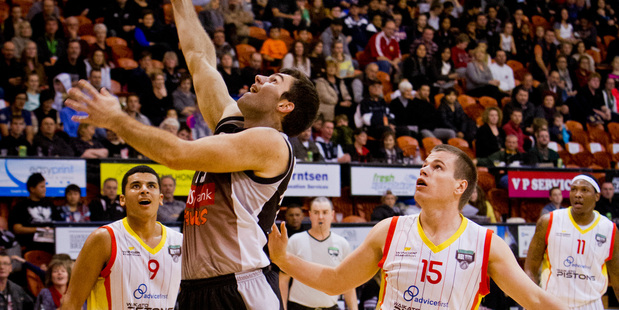 Don't be fooled by Tai Webster's numbers from his first season at the University of Nebraska.
The Tall Blacks point guard produced some underwhelming statistics during his rookie year in the US as he averaged 3.9 points per outing on 30 per cent shooting to go along with two rebounds and as many assists in 22.8 minutes of playing time.
The teenager has joined the national side from America and missed the first test against Korea in Wellington on Tuesday but will probably suit up in Tauranga tonight.
New Zealand coach Nenad Vucinic was keen to work Webster into his rotation, given the lack of depth at point guard, as the team builds towards next month's World Cup in Spain.
"I watched a few games of Nebraska this season and I believe Tai did a great job," Vucinic said.
"He got a lot of minutes, which shows the coaches wanted him on the floor to run the show, to be a point guard and he was very involved."
Vucinic said Webster's defence and general ability to lead a team around the court had improved and wouldn't be reflected in the box score.
At 1.93m he offers good size at the point guard spot but Vucinic stopped short of saying he was the answer to the Tall Blacks' needs at the position.
"We expect a lot from Tai but I don't think it's fair to put pressure on a 19-year-old to carry the team. Physically he's a very good athlete.
"He can play with anybody in the world with his athleticism but he's young."
Webster is one of a number of youngsters in the Tall Blacks' 17-strong squad to play Korea, which will be trimmed to 12 come World Cup time.
Tall Blacks captain Mika Vukona said it was scary to think about how good the side could be when they all grow up.
"When you've got guys like Isaac [Fotu], Tai Webster, Tai Wynyard and Jack Salt, that's pretty exciting for New Zealand basketball."
Wynyard, an Auckland schoolboy, became the youngest Tall Black at 16 years and five months when he took the floor on Tuesday night.
Tall Blacks big man Nick Horvath tweaked his back during that first game on Tuesday but expected to be fit for tonight, while Casey Frank (calf) missed game one but he may be back in the mix this evening.
The pair are battling for the one naturalised spot available on the World Cup roster.
Jack Salt and Tohi Smith-Milner sat out Tuesday's game but could play tonight as Vucinic has said he wants to use all his squad during the series.
After tonight's contest, the series moves to Auckland for game three on Saturday.
Tall Blacks
(From) Thomas Abercrombie, Benny Anthony, Everard Bartlett, Joshua Bloxham, Isaac Fotu, Casey Frank, Nick Horvath, Kirk Penney, Alex Pledger, Jack Salt, Lindsay Tait, Tohi Smith-Milner, Mika Vukona, Corey Webster, Tai Webster, Tai Wynyard.
Korea
(From) Sun Hyung Kim, Dong Geun Yang, Chan Hee Park, Jun Yong Choi, Sung Min Cho, Hee Jong Yang, Jin Soo Choi, Tae Jong Moon, Se Keun Oh, Jong Kyu Kim, Jae Seok Jang, Seoung Hyun Lee, Jong Hyun Lee, Joo Sung Kim.
- APNZ