Coach tells: I had to talk to skipper about handling 'past it' criticism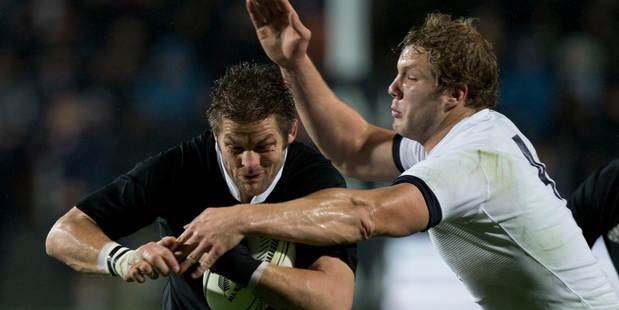 Steve Hansen says he had to talk to Richie McCaw about the unprecedented criticism that the All Blacks captain received from some quarters after the first two tests against England before he played in the third with a broken rib.
All Blacks coach Hansen believes the criticism affected McCaw, who went into the series with limited preparation because of his broken thumb.
The full extent of McCaw's rib injury was revealed in an x-ray on Monday and announced by Hansen on Radio Sport yesterday.
The 33-year-old was believed to have suffered the injury in either the Auckland or Dunedin tests, but the soreness was put down to bruising.
An increase in pain after the 36-13 win at Waikato Stadium led to the scan and a diagnosis which will keep McCaw out of the Crusaders' final round-robin matches against the Hurricanes, Blues and Highlanders.
While the announcement of McCaw's injury came as a surprise yesterday, so too was Hansen's revelation about the way the 127-test veteran reacted to the criticism.
Hansen said talk of McCaw missing too many tackles - his miss on Marland Yarde allowed the England wing to score in Dunedin - and being over the hill had to be addressed.
"I discussed it with him because it's the first time in his career that he's been criticised so it's something new for him to deal with and it's one of the tough things for players to have to deal with," Hansen said.
"Being the competitor he is, he's certainly [going to try] to prove everybody wrong, so you've just got to make sure that he doesn't go out and try too hard.
"I think he's a little bit like Cory [Jane] where he was trying too hard and wanted to prove to everybody that he's still a great player and that's the first time he's had to deal with that," he said.
"It's all about confidence which is a totally different thing to ego. If you allow things to enter into your world that take away your confidence you're not the same person whether it's sport or whatever you do - you lose your self esteem.
"I think a lot of the challenges are that they [public and media] are worried that he won't be there for the World Cup and we don't have another Richie McCaw."
Asked what it was that set McCaw apart, Hansen replied: "You see a massive workrate and you see a lot of things being done that no one else can do, especially in the moments when you really need it done, in the big moments.
"Yes he misses the odd tackle, but he's making more than most people anyway.
"Some of the ones he's missing he shouldn't have to make. He's making them because someone else has missed them and then he's in a compromised position and is reaching for them."
Had McCaw's broken rib been diagnosed a week earlier, the All Blacks' selectors would have had to make some big decisions in Hamilton.
Sam Cane, McCaw's back-up, faces another three to five weeks on the sidelines for the Chiefs because of his knee problem and Matt Todd, called into the training squad in the week before the first test, at Eden Park, has only just returned to the Crusaders from a calf injury.