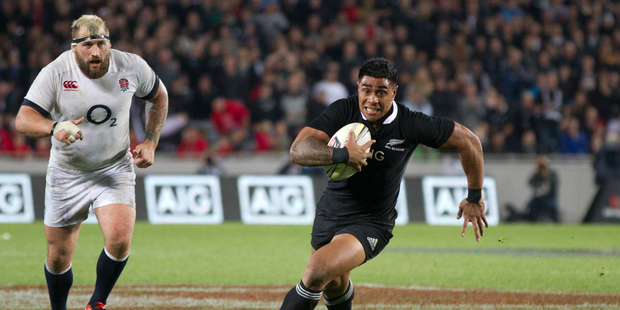 If only the England rugby team could be accused of talking a good game, but they aren't even doing that.
Here we are, almost at the tour finale, and there's not a dwarf or word out of place. They haven't even complained bitterly about the one-sided yellow card decisions. The Auckland and Dunedin tests have been enthralling in that broken, tense, rugby way, and there were flashes of the All Blacks at their high-paced best in Dunedin. Yet unless something dramatic happens in Hamilton on Saturday, this tour won't leave much of an imprint on the memory.
The four-game venture has been quite mechanical so far. This may be the largest English squad brought to New Zealand since Captain Cook's arrival and the explorer had to prepare for an uncertain itinerary with the prospect of more midweek clashes than English coach Stuart Lancaster faced. At my estimate, Lancaster leads a party of 70 tourists although official census figures aren't out. England even found need for one more player - the ex-Crusader Michael Patterson. It's a miracle they didn't whistle up another support staff member to cope.
This mass of energy has snuck around the country like they've fitted a stealth plane into the budget. There is a matching lack of outright venom on the field, where England have been strong yet failed to hammer home their advantages in two tests and been excruciatingly polite about it all. Either they can't smell blood or lack the killer touch, and it borders on deliberate.
There are solid reasons to suggest that the All Blacks are riding for a fall, oblivious as they seem to be to their ageing World Cup heroes - and Richie McCaw is absolutely a fading force no matter what they say - out of form players and a lack of cohesion that continues to carry them to victory.
Steve Hansen's formula has been working for so long it becomes churlish to keep suggesting they are doomed. Men like Hansen work under extreme pressure, and they deserve the plaudits when the scoreboard demands it.
We the sceptics will stay quiet, and settle maybe for a light dance on the grave while accepting it is difficult knowing when to let go of legends such as McCaw, even if those calls come with the territory. In McCaw's case, some of us clearly see what he isn't doing anymore, while others still marvel at what they do see. The debate is definitely on.
But whatever that verdict, it wasn't Hansen who dropped the ball in Dunedin. If a test series win was the main mission, Lancaster made the blunder of blunders shifting Manu Tuilagi to the wing for the second test after he did a reasonable impression of his 2012 demolition job at Twickenham in the first. Much is made of All Black centre Conrad Smith's rugby intelligence and fair enough, but that high IQ has been laid low by Tuilagi twice in three years. Yet Lancaster went out of his way to spare the All Blacks in Dunedin.
No coach hell bent on a series win, and in his right mind, would have come up with that choice. Modern test coaches have a constant sanctuary - World Cup experimentation and preparation. Had Tuilagi been in his rightful place, England would have seriously damaged the All Blacks early in the piece and had a fair old chance of starting to change the world rugby order. Instead, Tuilagi blew a winning position through a lack of pace.
The after-match at the outstanding Forsyth Barr Stadium summed it up. The English captain Chris Robshaw was dragged away from a conversation to take the stage, where McCaw was presented with the Hillary Shield.
Sir Ed had gone to tremendous lengths, or heights, to give them something meaningful to play for, but the shield doesn't get close to the Webb Ellis Cup mountain top. Even on stage, Robshaw looked mildly distracted, his attempt at feigning despair being the depressing description - for any sporting romantic - of working in a results-based industry. What he really meant was for this English side, some results are far more important than others.