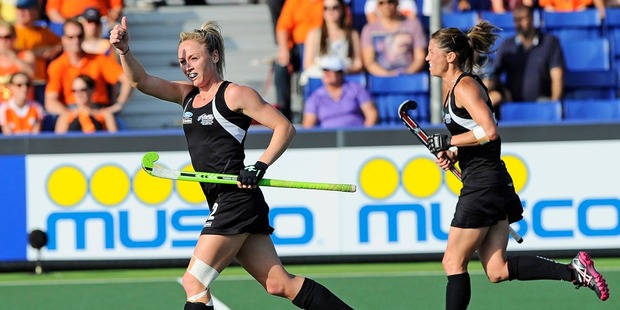 The Black Sticks Women have kept their semi finals hopes alive with a 4-1 win over Japan at the Hockey World Cup in The Hague.
Anita Punt scored a double with other goals from Sophie Cocks and Katie Glynn delivering a win which moves New Zealand up to six points with one game still to play in Pool A.
To progress to the semi finals, the Black Sticks need the Netherlands to beat Australia in their game later today, which would set up a must win against Australia in their final pool game on Monday at 8.30pm (NZ time).
Head coach Mark Hager said it was good to come away with a win but that there is still lots of work to be a chance at making the semis.
"We did well today to come away with a result. We still lacked some finishing up front but we were able to put away some goals and two penalty corners," he said.
"Unfortunately we had a bad game against Korea and that could come back and bite us in the bum.
We need the Dutch to beat Australia and then it's down to our game against the Aussies and goal difference."
With no shortage of motivation, the Black Sticks were on form today from the opening whistle.
The Kiwis opened the scoring in just the fifth minute after Sophie Cocks deflected an Anita Punt drag flick past the goalkeeper.
Japan solidified their defence following the goal and the score line remained 1-0 to the Black Sticks at halftime.
But three minutes into the second half Punt was in the spotlight again when she rocketed a penalty corner flick into the top of the goal.
The momentum continued and Katie Glynn knocked a reverse shot past the keeper just one minute later to give the Black Sticks a 3-0 buffer.
Japan scored after a bizarre series of events saw the Kiwis away on a fast break before being called back for a Japanese referral for a suspected foot in the circle.
With a decision not clear a bully was called which Japan chose to contest rather than pass the ball back to the Kiwis which is the generally accepted choice.
The Black Sticks lifted their intensity after the goal and finished strongly with Punt scoring a well-worked field goal on the reverse stick to seal the result.
The Black Sticks Women play their final pool game at the World Cup in a tough trans-Tasman clash against Australia on Monday at 8.30pm (NZ time).
Meanwhile, the Black Sticks Men are set for a crucial Pool B game against Germany at 8.30pm tonight (NZ time).
In other women's Pool A results today Korea increased their semi final chances with a 4-2 win over Belgium while the Netherlands host Australia in the final game of the day.
BLACK STICKS 4: (Anita Punt 2, Sophie Cocks, Katie Glynn)
JAPAN 1: (Yuki Nagai)
Halftime: Black Sticks 1-0