Gregor Paul looks back at some of the iconic New Zealand vs England moments of the modern era.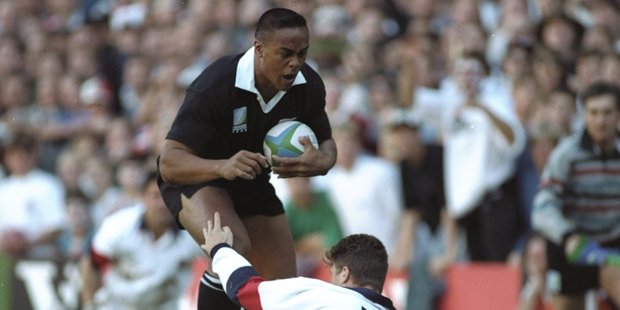 1. Mike Catt, out here now as a coach with England, may forever regret suggesting ahead of the 1995 World Cup semifinal that Jonah Lomu was perhaps a little over-rated. Lomu's first touch saw him hand off two Englishmen, straighten and set his sights for fullback Catt. Lomu didn't deviate, he dropped the shoulder and ran over Catt as if he wasn't there, churning him out the back like road kill. Newlands, 1995
2. The All Blacks played England twice on their Northern tour in 1997 and the latter wanted to make a statement in the first. England hooker Richard Cockerill marched up to opposite man Norm Hewitt during the haka and stood about a metre apart. They ended up nose-to-nose, with some heated pushing and shoving at the end. It was intense theatre. Old Trafford, 1997
3. Having destroyed England at the 1995 World Cup, Jonah Lomu decided to do it all over again in the 1999 event. Mid-way through the first half, he took the ball inside his own half, beat four players to score a sensational try in the corner.
England flanker Lawrence Dallaglio preserved the moment for longer when he smashed his elbow into the back of Lomu's head long after the big wing had touched down. Twickenham, 1999
4. England halfback Kieran Bracken was making his debut in 1993 and Jamie Joseph decided it was best to welcome the 21-year-old to test football the old-fashioned way. In the opening minutes Bracken scrambled a loose ball clear and a few seconds later, boom, Joseph stomped on the Englishman's ankle - partially dislocating it. Somehow Joseph avoided censure and Bracken stayed on - playing a full role in England's famous win. Twickenham, 1993
5. England came to New Zealand as world champions in 2004 and having won in Wellington the previous year, were full of confidence they could do so again. But they were thumped in the first test. They came out for the second all fired up, determined to make amends but after 10 minutes lock Simon Shaw was sent off for supposedly putting his knee into Keith Robinson's back. It was the lamest red card. Eden Park, 2004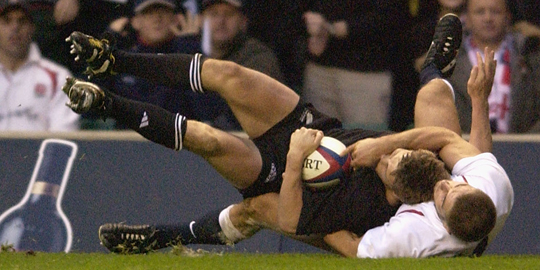 Ben Blair of New Zealand is tackled on the line by Ben Cohen of England. Photo / Getty Images
6. An inexperienced All Black side, missing 21 regulars left at home, took England to the wire. It came down to the last play of the game. The All Blacks created a try-scoring chance when they worked Ben Blair free of the left. The All Blacks fullback was left one-on-one with England's Ben Cohen. He could have stepped or passed inside, instead he went for the corner and was bundled out agonisingly short. Twickenham, 2002
7. The All Blacks were being destroyed in the second half of their 2012 encounter against England at Twickenham. The crowd were going nuts as everything England did worked. The icing on the cake came when Manu Tuilagi intercepted a Kieran Read pass and ran 50 metres to score. The galling thing...the England midfielder was already celebrating before he touched the ball down - his premature actions sitting most uneasily with the All Blacks. Twickenham, 2012

8. England came to Wellington with the intent of proving they could win in the Northern Hemisphere ahead of a World Cup in Australia. They upped the physicality that night and No 8 Dallaglio destroyed his All Black opposite Rodney So'oialo. At one stage the Englishman was charging down the field with So'oialo on his back. At another, he picked up So'oialo and tossed him clean over the sideline. Cake Tin, 2003

Dan Carter of New Zealand runs past Anthony Allen of England to score a try. Photo / Getty Images
9. The English thought they had found a midfield superstar in 2006 when they fielded the uncapped Anthony Allen at second five. Allen was barely 20 yet talked up as if he was ready to conquer the world. Unfortunately he had a shocker - the worst moment coming when he went high on Daniel Carter, was handed off and sat on his bum and left to watch the All Black No 10 go the length of the field. Bye bye England career. Twickenham, 2006
10. Having missed out on 2007 World Cup selection because of a damaged knee, Richard Kahui finally made his All Black debut in 2008 against England in Christchurch. He had to wait 12 minutes to get his first touch - which saw him switch his running line, take a reverse pass from Daniel Carter and score under the posts. One touch, one try. AMI Stadium, 2008