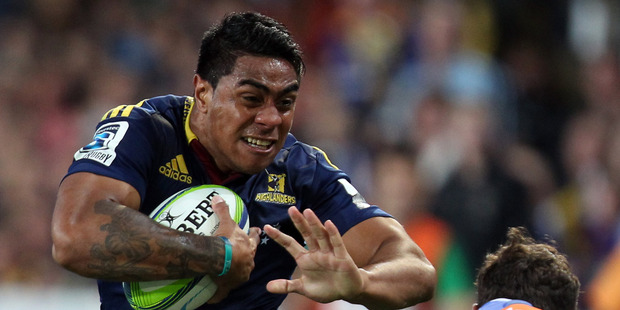 It appears a replacement for Conrad Smith has been found.
Yes, Malakai Fekitoa is rated that highly by the All Blacks selectors.
If, heaven forbid, centre Smith is injured tonight playing for the Hurricanes against the Chiefs, Steve Hansen and Co would have no worries about putting Fekitoa into the starting line-up against England for the first test at Eden Park on June 7.
The 22-year-old Highlander has played so well in his first season at this level that he convinced the national selectors of his ability and potential.
Senior players among the All Blacks are said to be fans, too. Although Fekitoa was wide-eyed and more than a little intimidated by the thought of rooming with Conrad Smith at the Christchurch training camp a night after putting Smith and the Hurricanes in their place in Wellington during the Highlanders' 18-16 victory, the experienced players in the national team have been impressed by Fekitoa's willingness to learn and his ability to put those lessons to good use straight away.
These are abilities not always present in up-and-coming players.
Yet, one name must make the All Blacks' brains trust wary of pushing Fekitoa too hard, too soon - Isaia Toeava. Toeava was selected for the All Blacks in 2005 as a 19-year-old after a handful of games for Auckland in the national provincial championship.
He played in 36 tests - his last against Argentina in the 2011 World Cup - but never lived up to his billing as one of the most talented backs of his generation.
In hindsight it has been admitted that Toeava, who left the Blues in 2012 for club rugby in Japan with an uncertain future because of a hip problem, was pushed too hard too soon. His ability to play several backline positions may have hindered him, too. He could play centre, wing and fullback, so was never really allowed to settle. But his biggest problem was inability to handle the pressure on the biggest stage.
As Hansen is fond of saying, test rugby isn't for everyone. Tongan-born Fekitoa has a similar background to Toeava, who was born in Samoa. He also appears shy.
The selectors will be wary of the pressures that test rugby can bring. But the physical attributes are there. Fekitoa is a muscular and powerful athlete, who probably caught the attention of the wider public in South Africa last month when he got past half the Sharks team from 60m out.
He has played every minute for the Highlanders this season, and brings a new dimension to an attack that previously relied almost exclusively on Aaron Smith and Ben Smith.
His defence has been just as impressive. He used to be guilty of rushing up and getting beaten on the outside, but has made the adjustments.
When an opponent does get the better of him, Fekitoa can chase him down - witness the two superb tackles against All Blacks wings Julian Savea and Cory Jane in Wellington.
Fekitoa appears to have the goods, but with the optimism there must be an element of caution: Handle with care.
- APNZ