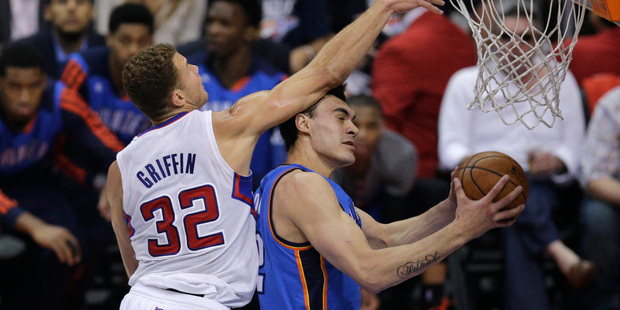 The ascension of Steven Adams is set to continue unabated after Oklahoma City lost one of their best players to injury.
While Serge Ibaka's calf strain is bad news for the Thunder's title hopes, it is a boon for Adams who is now a certainty to see significant court time in the western conference finals against San Antonio.
Ibaka is an outside chance of returning if Oklahoma City advance past the Spurs and into the NBA Finals but, in the power forward's absence, Adams will be required to step up. And judging by his performance in Friday's game six victory over the Los Angeles Clippers, the rookie is ready to do just that.
Adams made the most of a career-high 40 minutes by recording a double-double (10 points, 11 rebounds) to help the Thunder set up a rematch of the 2012 conference finals.
If Oklahoma City are able to replicate the result from that series, which they won in six games, Adams will need to produce a key contribution. Ibaka is a premier two-way player and, while Adams is unlikely to be asked to extend himself offensively, he will be relied on to protect the rim.
The seven-footer undeniably possesses that ability, averaging 1.4 blocks in the playoffs despite playing just 16.3 minutes a game. He's also a beast on the defensive glass, grabbing eight boards at that end on Friday, and his physicality never fails to get under opponents' skin.
The challenge for the 20-year-old will be staying out of foul trouble in extended minutes, a task in which he succeeded during the best game of his professional life.
Adams' body will also have to withstand the rigours of prolonged battles against Tim Duncan and co, a fact he found out during Friday's efforts.
"It's very sore,'' Adams told reporters. "It's painful, man, playing that long, but we got the win so I'm happy.
"I did all right. I was just trying to pick up where [starting centre Kendrick Perkins] left off. He came out with good energy and got some early fouls, but he was talking to me on the bench the whole time - what's open and what we had to do on defence.''
With Perkins' assistance, Adams managed to limit the impact of All Star Blake Griffin, and the Kiwi's assignment will be no easier against the Spurs.
Adding to the intrigue for New Zealand hoops fans is the presence in the San Antonio staff of Sean Marks, the man Adams is rapidly surpassing as this country's greatest basketball export. Now an assistant to legendary coach Gregg Popovich, Marks' role will include detecting deficiencies in Adams' game.
The Spurs' plans will undoubtedly revolve around Duncan, a four-time champion and two-time most valuable player. The 38-year-old is a guaranteed first-ballot Hall of Famer and, if Adams' teammate Reggie Jackson can be believed, the Kiwi is also a chance to end up enshrined in Springfield.
"He has the potential to be a Hall of Famer,'' Jackson said, an exaggeration, certainly, but one for which he provided evidence.
"There isn't really anything he can't do. Jumps out of the gym, very physical, strong, gifted, can shoot hook shots with either hand. People don't really get to see, but he's pretty comfortable shooting mid-range shots.
"If we ever just let him loose and he starts to figure things out, he'll be a scary player in this league.''