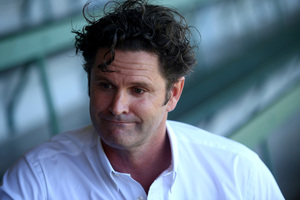 Chris Cairns says his interview with Scotland Yard is ongoing, after the New Zealand Herald revealed his former lawyer and friend Andrew Fitch-Holland had been re-interviewed by the Met police last night, before being released on bail until August or September.
The interview happened as details emerged in London's Daily Telegraph about the assistance Lou Vincent is offering investigators.
Fitch-Holland was arrested in March on suspicion of perverting the course of justice, relating to evidence given at Cairns' London High Court defamation trial against former Indian Premier League boss Lalit Modi.
The IPL impresario had made allegations about Chris Cairns in a series of tweets. Cairns has consistently denied any wrongdoing.
Cairns said: told the Herald today that he won't comment on the Fitch-Holland or Vincent investigations.
"I'm waiting to conclude the interview I started with the Met over six weeks ago here in New Zealand. Obviously the time it's taken to conclude this is frustrating but I continue to cooperate fully with the relevant authorities.
"Regarding Lou Vincent's comments and the position of Andrew Fitch-Holland, I maintain my stance that I do not comment on other people's situations in this matter. "
Cairns said he has not contacted Fitch-Holland, as per police instructions.

Fitch-Holland's lawyer Tony Wyatt said of the new interview: "Ostensibly he was questioned about a number of evidential matters which he wasn't questioned about last time.
"The material was all very much the same but it just wasn't disclosed to him on the last occasion. This time it has. He answered questions about everything that had been disclosed."
Fitch-Holland is likely to be called back in August or September for another hearing with the Metropolitan Police.
"He will be re-interviewed, alternatively they may decide they have enough [evidence] and charge him at that time. The other option is they may decide they're not going to charge him and, if that's the case, all the conditions of his bail will be removed and he'll be allowed to get on with his life as normal.
"He's not been charged but the investigation is ongoing. It seems most of the information is coming from one source, so the decision they will make when they come to decide to charge him is whether that one source is credible."
That one source is almost certainly Lou Vincent. He has admitted he is fully co-operating with police and ICC anti-corruption investigators.
Vincent has told investigators of match-fixing across at least three countries, as was reported in the Herald in December, when news of the investigation was broken.
Specifically, Vincent is understood to have tried to specifically influence outcomes in a match involving his Sussex side and Kent in 2011.
The Herald also broke the news that a match involving Vincent's Auckland Aces side during the 2012 Champions League in South Africa is under investigation.
The Herald contacted Vincent last week via email, seeking comment on his role in the investigation.
"I still can't say anything or make comment," Vincent replied.
Cairns, Vincent and former New Zealand seam bowler Daryl Tuffey are being investigated by the ICC anti-corruption unit over allegations of match-fixing. They played together for the Chandigarh Lions in the short-lived ICL.
Cairns said in March that he had been contacted and interviewed by the Metropolitan Police investigators who were in New Zealand.


Match-fixing investigation timeline
Dec 5: Trio of cricketers under investigation revealed
Dec 5: 'My heart sank' - Cairns
Dec 6: Cairns' legal team strikes back
Dec 8: Fixing won't die off - Modi
Dec 9: Cairns: I'm still in the dark
Dec 14: ICC probes Aces match in South Africa
Feb 9: Cairns hits back
Feb 10: 'Who's putting this in the media?' - Cairns
Feb 16: Experts say loss of income sparks Cairns counter
Feb 27: Vincent admits approach by bookmaker
Mar 27: Cairns' lawyer arrested