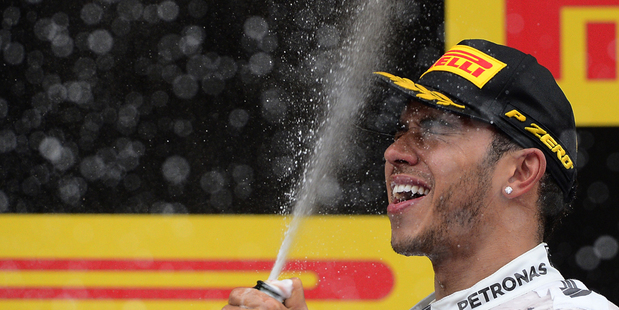 All manner of suggestions have been put forward to explain why Mercedes' car is so much faster than Red Bull's or Ferrari's, after it left the former 49 seconds in its wake yesterday afternoon and very nearly lapped the latter.
Is it a fiendishly clever turbocharger design on the 1.6-litre eco-hybrid V6 engine? A specially developed Petronas fuel worth another 30 bhp? Clever aerodynamics? A massive investment that is even said to outstrip Red Bull's? Or a pair of great drivers who are currently at the very top of their game?
There is probably a fair degree of truth in all of them. But the biggest thing about the latest in a very long line of race-winning Mercedes machines that dates back to the early days of the 20th century is that the design is the best integrated and gives the drivers huge confidence.
Whatever the answer, Mercedes' non-executive chairman, Niki Lauda, isn't really bothered. He's just savouring the way that a long-hatched plan has come together. And he's delighted that the team are even more dominant than Red Bull were in their heyday.
"If we're 50 seconds in the lead to the third guy [Daniel Ricciardo] and pushing each other from the first lap to the last, much more we cannot deliver, to the sport and to everybody else," he said last night in the wake of a fourth consecutive Mercedes one-two finish to a grand prix.
And he hopes that the fight will remain between his drivers alone.
"I hope so because my strategy is very simple. We do not interfere with who is winning what. We let them race from the beginning to the end. This is my philosophy. So far nothing [bad] happens. I wish that this continues to a point in the championship where there is no third guy. Then I'm completely relaxed.
"Then they can drive over each other, and whoever is surviving is the world champion. This is my dream. But we're not there yet. I want them to throw everybody off and then there is no enemy, and then it's really going to be warfare!"
Lauda did not pull any punches while praising four-time winner Lewis Hamilton after the gripping battle in which he narrowly beat his team-mate Nico Rosberg.
"Lewis is unbeatable. It's very simple to say. Because he's getting better and better every race, he makes no bloody mistake whatsoever.
"Nico tried every trick today to get him. He was pushing like crazy to save the tyres in the middle section of the race to be ready for the attack at the end. He did a very clever way of driving and he would have got him, but not when the race was finished."
Lauda, the battle-scarred veteran of three world championship and one of the greatest comebacks in the history of any sport, has seen the likes of Jackie Stewart, Emerson Fittipaldi, Ronnie Peterson, Gilles Villeneuve, Alain Prost, Ayrton Senna and Michael Schumacher race, but added: "You cannot compare past drivers, but I would not know anybody today who could beat Lewis, in the same car. Nobody can beat him, because he's unbelievable."