Richie Stanaway is back in open wheelers two years after a crash sidelined him.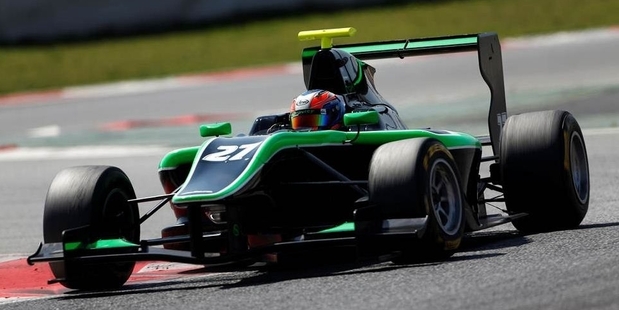 Aston Martin works and GP3 driver Richie Stanaway is about to have his second weekend in a row of racing, this time in his GP3 car as support to the Spanish Formula One Grand Prix.
The Kiwi driver received a late call-up to the GP3 championship with the Status Racing team, and after nearly two years out of single seaters showed good pace in pre-season testing.
On his road to Europe, Stanaway won just about every category he competed in, and on arriving on the continent in 2010 continued to dominate, winning the German ADRC Masters series and the German F3 title the following year.
As a 19-year-old in 2011, in his only other time in a GP3, he won at Spa Francorchamps.
A serious crash in 2012 halted his open-wheeler career and he feels he has unfinished business in the category.
"I only found out about the first test a few days before I had to fly out," said Stanaway. "It's been nearly two years since my accident at Spa, and I've sat in a single seater. I'd have to say it felt really good - I'd sort of forgotten how good they are to drive.
"I'm really excited about getting back into a single seater and having a crack at it. It's great that I'll be able to a full season, with the Aston Martin commitments, in a mainstream [international] series for the first time.
"My pace was at times okay in testing, but it wasn't where I would have liked. There are definitely obstacles that have to be overcome and areas for me to come to grips with. The tyres are a bit of a mystery at the moment, as I have no experience with them yet.
"This weekend I'll be chipping away and giving it the best I can. It's going to be difficult for sure, but it's a great place to be and at a F1 race weekend with other Kiwis racing as well."
Those other Kiwis are Mitch Evans in GP3 and Earl Bamber in the Porsche Super Cup.
Although he was quick in a Porsche Supercup car, and more recently in the Aston Martin WEC car where he finished second in his class at Silverstone last weekend, the majority of Stanaway's racing experience has been in single seaters.
His dream may be to get into Formula One, but he realises the money required to get into the blue riband of motor racing might be one hurdle too many.
"It would have been nice to win in the Aston Martin, but our fuel use meant we had to make an extra pit stop," he said.
"We did what we set out to do and had a solid race where nothing went wrong, which is what you want."
"With the way Formula One is at the moment and as much as I love it, it's becoming more and more apparent the money needed is massive and coming from New Zealand makes it even more difficult to find.
"I really appreciate being part of the Aston Martin team that allows me to be a professional race car driver and the interest in sports car racing seems to be increasing. I'm also looking forward to doing more endurance races."
New Zealand has a pedigree in GP3 - Aucklander Mitch Evans won the title in 2012 and is now racing in GP2.
The latest graduate of GP3, and the Toyota Racing Series, is reigning GP3 champion Daniil Kvyat who is in his rookie season in Formula 1 with Scuderia Toro Rosso.
This year's championship has two new venues, Spielberg, Austria, and Sochi, Russia, joining the calendar to increase the series to nine rounds.
There have been a few changes to the second generation GP3.
The front tyre is 20mm wider to bring the mechanic grip/balance forward, and the aerodynamic configuration has been changed to make it even easier to draft another car and overtake it.