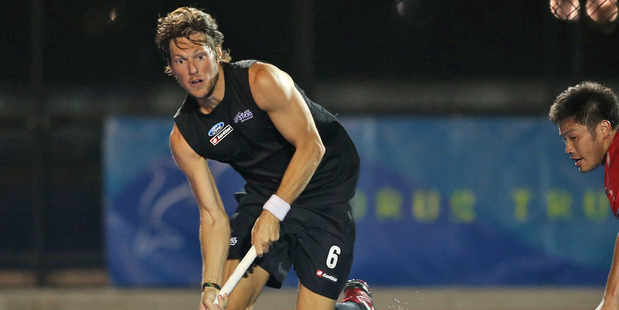 The Black Sticks Men have recorded an emphatic 6-1 win over Japan in their second pool game at the Champions Challenge in Malaysia.
Four goals in the first half (Steve Edwards, Kane Russell, Alex Shaw and Simon Child) were enough to sink Japan's hopes with 35 minutes still to play.
Russell scored his double early in the second half before Stephen Jenness put the icing on the cake with a scintillating goal 10 minutes out from fulltime.
The Black Sticks were in dominant form against a familiar Japan side, which proved testing opposition in last month's three-test series in Tauranga.
Head coach Colin Batch said the team backed up last night's win with another good performance and capitalised on their scoring chances.
"Playing in extremely hot conditions again was a real test for our conditioning and the guys handled that very well," he said.
"I thought we played extremely well and finished our scoring chances with precision. All our goals were good in their own right tonight. The win puts us in a strong position in Pool A ahead of tomorrow's rest day."
It took the Black Sticks just five minutes to score their first goal of the game thanks to Steve Edwards' brilliant shot from the field.
The Black Sticks were up 2-0 in the 11th minute after Kane Russell flicked a pin-point shot into goal from a penalty corner.
Alex Shaw and Simon Child both added to the score sheet to put the Kiwis well in control and up 4-0 at halftime.
Just minutes into the second half, Russell scored his second penalty corner flick of the game with Japan helpless to stem the flow of New Zealand attack.
Japan finally showed some life in the 52nd minute, with Ippei Fujimoto getting his side on the scoreboard.
But the comeback was short lived after Capital striker Stephen Jenness struck back just minutes later to extend the Black Sticks' buffer to 6-1.
The Black Sticks play their final pool game against Poland at 11pm Tuesday night (NZ time) ahead of their cross-over quarter final.
The Champions Challenge doubles as a qualifier for the 2016 Champions Trophy with the winner earning an automatic berth, and is also important preparation for the Hockey World Cup from 31 May - 15 June in The Hague, Netherlands.
New Zealand 6: (Kane Russell 2, Steve Edwards, Alex Shaw, Simon Child, Stephen Jenness)
Japan 1: (Ippei Fujimoto)
Halftime: Black Sticks 4-0