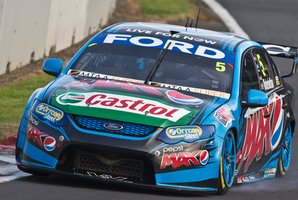 The V8 Supercars ITM 500 ended largely trouble-free today, with only one serious accident and no arrests over the four-day event.
It was the second year the V8 Supercars Championship was held at Pukekohe Park Raceway and motorsport fans turned out in force, with 128,255 attending.
It was the fourth stop on the 2014 Supercars Championship calendar, following events in Adelaide, Tasmania and Winton.
Event spokesman Ian Hepenstall said there were no arrests over the four-days of the event.
It was also largely injury-free, aside from a crash in one of the support category races where Pukekohe local Andy Duffin was hospitalised in a serious, but non-life threatening condition.
The event culminated with what was described as a "thrilling final race'', which saw Mark Winterbottom winning the Jason Richards Trophy.
V8 Supercars' CEO James Warburton said the reception from locals and the thousands of visitors from around the country and Australia was overwhelming.
"To grow this event significantly year on year is testament that it was the right call to come back to Pukekohe and this circuit, which is not only a brilliant race track but superb for the fans.
"It has also been an absolute privilege to race on Anzac weekend and assist the RSA with their fundraising endeavours.''
Auckland Mayor Len Brown said Pukekohe was motorsport's spiritual home in New Zealand.
"The crowds have turned up in great numbers and they have been rewarded with a brilliant display of world-class motor racing.''
The Royal New Zealand Returned and Services' Association (RSA) was the event's official charity and benefited from fundraising including the sale of poppies and merchandise and a `Drivers in the Hot Seat' charity speaking event.
RSA chief executive David Moger said the event embraced the Anzac spirit and ensured the legend of the Anzac was respected and remembered.
"The funds raised through the generous donations and fundraising events will allow the RSA to further our crucial support work in the veteran and ex-service communities.''
Local Board Chairman Andrew Baker said the event was important for the Franklin region.
"Pukekohe has again enjoyed being the focus of this leg of the V8 Supercars annual calendar ... we look forward to the teams and fans returning again next year.''
Independent analysis of the event would be available in June.
- APNZ