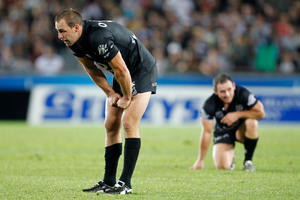 The ship of fools sails on ... the Warriors' chaos in the aftermath of Matt Elliott's sacking as coach demands that someone take an axe and blowtorch to the club, top to bottom.
Blood-letting and a fresh start seem the only way to excise the diseased tissue which now seems to have spread to the top of the organisation, with co-owners Eric Watson and Sir Owen Glenn at odds in a kindergarten, he-said-no-I-said, squabble over shareholding which has also been infected by the Elliott affair.
Others showing signs of bacteriological invasion are chairman Bill Wavish, CEO Wayne Scurrah, general manager of football Dean Bell and even out-of-contract skipper Simon Mannering.
In her novel Ship Of Fools, Katherine Anne Porter describes a bunch of confused and quietly desperate people setting out on a ship to pre-World War II Germany. What unites the deluded passengers is that they have all suffered a life of disappointment and are fancifully pinning their hopes on a better life at the end of the voyage - without any rational reason.
One of the passengers, for example, believes that a happy life awaits her on the Isle of Wight, though she is actually headed for Germany at a time of bigotry and hatred.
The Warriors seem a rudderless ship, piloted by similar blind hope. Small wonder the team on the field are not winning, and look good one week and execrable the next.
Things are so bad, it is difficult to know where to start. The Elliott affair has been surrounded by so much obfuscation and posturing, the credibility of the club is zero.
It is difficult to believe anything anyone connected with the club says right now - a sad state of affairs for a club with loyal fans and a broader audience who generally want them to succeed.
But what to do with a club, as they began an association with their fifth coach in two years, where the following happened:
Almost two years ago, Watson and Glenn held a ludicrous press conference saying their goal was to make the Warriors the most successful club in the NRL and the most successful franchise in Australasia.
A "marquee" coach was promised. Elliott was appointed. While clearly an intelligent and personable man ("honourable", according to Glenn), he was never "marquee" and never the man for the job; this column gave that opinion at the time. He suffered from the overly high expectations.
When Elliott was released as coach after the Sharks debacle (Bell and Wavish delivered the news, apparently), the Warriors made out Elliott had resigned. Maybe it's employment law or a wish to ensure that Elliott is not so tainted by this affair that he can't find another coaching gig - but it made the club seem ridiculous, especially when players talked openly about the coach being sacked.
The Warriors attempted to downplay the news of Elliott's passing on their own website. That story was run - but third on a list and underneath two stories carrying a dateline of Thursday, April 10. That was on Monday, April 7. This is like carrying news of the death of Barack Obama but burying it below a Nigella Lawson recipe for a key lime pie and a story on how to fix a flat tyre - due to be released three days later. Did they think we wouldn't notice?
Glenn said he wasn't advised of the decision to sack Elliott; Watson and others in the club said he was; that Glenn's representative on the board was informed and she told the board he had been told.
Glenn told Radio Sport that "informed" meant it was presented at board level as a fait accompli. He later issued a statement saying it was also positioned as a resignation - in spite of his contention that Watson told an opposed Glenn that Elliott was not the man for the job and he had an approach to another Australian lined up.
Glenn also said he wanted out of the shareholding arrangement - but that Watson offered him only $1 million for a 50 per cent holding that he paid over $6 million for. When Glenn offered to buy Watson's shares, he says he was told the price was $15 million. Watson denied that.
Things are not helped by the Eden Park/Mt Smart situation. The Warriors are now perceived to be a club without a home ground as they transition into the rugby union stronghold; a move that many of the league faithful find about as attractive as swallowing a dead seagull. The players don't like playing there.
A political move by the Auckland council, with ratepayers' interests brought to bear, means staying at Mt Smart comes with a punishing renovation bill if they refuse to move. The plethora of different jerseys the team wear makes them seem a club that don't even know what their true colours are; at best, more interested in merchandising than making friends.
The only way out of this is a purge, on and off the field, of some people; a clean slate, maybe from board to playing field level, with people brought in to fill some key posts built around a clear and transparent strategy.
It's the only way to stem the vast leakage of credibility. Winning would help but those who believe the Warriors will win consistently in these circumstances must have a PhD in Optimism. Scurrah has said he'll go if the team doesn't make the play-offs.
Sometimes there has to be a cleaning of the stables. In Greek mythology, Hercules was required to clean the Augean Stables which had not been touched for 30 years and which housed 1000 cattle.
He eventually solved the problem by diverting two rivers to run through the stables, carrying off all the filth.
The Warriors, metaphorically speaking, need something similar. Watson seems as if he'll be the man left standing but there are few signs he wants anything other than the status quo (minus Glenn).
To Mannering, who decided to carry on at the Warriors, the view must have been ghastly - warring owners, a board and management compromised by their own statements and clumsy handling, five coaches in two years, no home ground, more costume changes than Kate Moss and a stream of loser interviews at the end of games they should not have lost.
Why did he stay? Loyalty that the club management doesn't deserve. Time they did something that earned it.