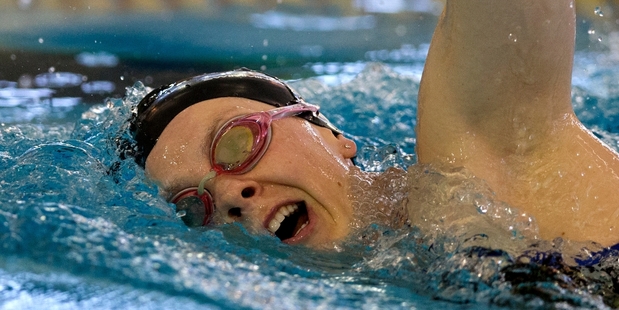 It proved a triple treat for Lauren Boyle on the final night of the State New Zealand Open Championships in Auckland last night.
The 26-year-old, a triple medallist in the world championships last year, won the 400m freestyle to complete a clean sweep of all her key freestyle races - the 200m, 400m and 800m.
All three races were under the qualifying mark for the Commonwealth Games. The championships double as the official trials for Glasgow, as well as the Oceania Championships in Auckland next month and the Pan Pacific Championships on the Gold Coast in August.
After going under the mark for Glasgow in the morning, Boyle improved further to 4:06.08, with Wellington's Samantha Lucie-Smith six seconds back and fellow Capital club mate Emma Robinson third.
It was mission accomplished for Boyle after she came home early from altitude training with illness.
"I was really happy to qualify this morning so I wanted to go faster. I try to go faster from qualifying to final, especially at these open meets when there's not as much pressure," Boyle said. "I was really relieved because I had a bout of some sickness three weeks ago. The beginning of the week I was relieved to swim well and now I am really happy to have qualified in the three individual events.
"Now it is back to the hard work and prepare towards Glasgow."
Her fellow Swimming New Zealand High Performance Centre training partner Nathan Capp produced a solo performance to win the 1500m freestyle.
The Greerton (Tauranga) club swimmer, who set the national record of 15:22.83 late last year, was chasing a tough qualifying time nearly eight seconds faster last night. He went through the halfway mark on schedule but was unable to keep up to the rigours of 61 seconds for each 100m, finishing in 15:25.25. His dominance was such that he was 23 seconds clear of second placed Michael Mincham (Waterhole, Auckland).
Meanwhile, paralympic swimming star Sophie Pascoe claimed her second qualifying performance of the competition in winning the 100m breaststroke SB9 in 1:19.09, which was more than eight seconds inside the qualifying mark.
"The Commonwealth Games is a pinnacle event for this year along with the Pan Pacific Champions a week after," Pascoe said.
"I've never been to a Commonwealth Games. It is going to be exciting going away with a new team and a new environment with the whole swimming team. I've been training with the Swimming New Zealand team for five weeks and it's been fantastic. And every time you get to represent your own country is always something," she said.