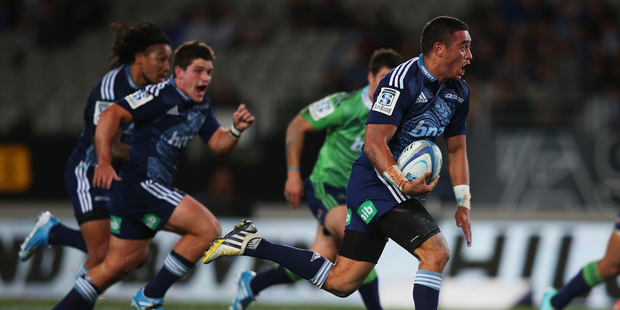 Those with an interest in Blues rugby and mathematics would have been heartened by the sequence which unfolded at Eden Park.
As the lineout and scrum regained some solidity, the Blues' defensive systems showed an equally healthy dose of redemption.
It was about time. Since the timid opening Super rugby loss against the Highlanders, sides have opened up the Blues in a chain of try-scoring concessions which yielded 4, 3, 4, 3 and 3 tries.
Not pretty at all and the sort of detail which would have agitated Graham Henry, who is in charge of the defensive strategy, and Grant Doorey, who also works with the defensive systems.
Henry worked at the apex of world rugby with the All Blacks where strong defence was not negotiable. It was demanded and expected just as Doorey learned when he played in the NRL before coaching.
They are two men who work on the principles of Vince Lombardi, who said: "Good offence will win you games but good defence will win you championships."
The Blues are some way from achieving the latter with a 50 per cent winning record this season. However they have won successive matches and in beating the Highlanders at Eden Park achieved their first doughnut defence of the season.
That may not be a sexy statistic for those who have been seduced by the strange attempts to use Benji Marshall or the boisterous return of Jerome Kaino and Ma'a Nonu.
But the zero try concession on Saturday was a sign that some things are starting to go the Blues' way.
From set play there are many ways to defend with man on man, drift defence, the umbrella squeeze and rushing plays while sorting that defensive line from phase play demands a whole lot more execution.
Tacklers have to talk and respond to different circumstances. Tight forwards have to blend in alongside midfield backs and perform the same tasks with the same certainty.
They have to trust teammates either side of them, cover the attacker they are lining up against and listen to those who are calling numbers or watching plays unfold.
Until Saturday the Blues had been far too slipshod on defence.
They had shipped an opening four tries against the Highlanders, three against the Crusaders, four to the Bulls, three to the Lions then another three against the Cheetahs.
The defensive disease was crippling and many of the big guns are waiting for the Blues in the second half of the tournament. Coach John Kirwan talked about the win against the Highlanders as being a "line in the sand".
It definitely was on the defensive front. Now they have to do it again in Canberra on Friday before they head into a week's recess.