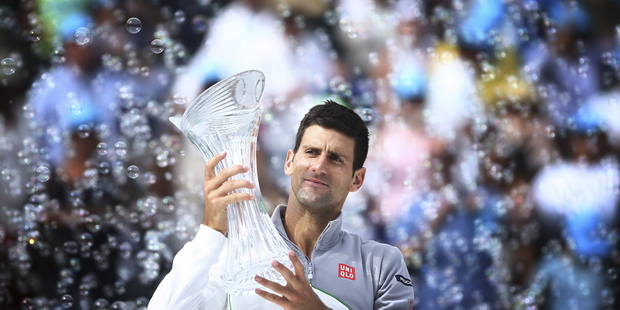 From celebratory bubbles to Shane Warne's hunt for a fake tweeter, Daily Shorts looks at the light-hearted side of sport.
Taste of bubbles
Maybe there's a confetti shortage in Miami (see Heat not Dolphins) because that can be the only reason bubbles were released during the trophy presentation at the Sony Open today after Novak Djokovic made light work of Rafael Nadal in Key Biscayne. Who doesn't like bubbles? Maybe Rafa after having to go through the presentation surrounded by them after being done 6-3, 6-3 in straight sets.
Homemade highlights
In the States non-CBS television stations can't show March Madness highlights until the day after the game. So as a workaround ABC affiliate WCJB in Gainesville, Florida decided to cut their own highlights package. Just four guys in suits and a mini basketball hoop.
Pretty much the real thing. With FIFA normally so stringent when it comes to broadcasting rights, and Lego men planning to strike over the World Cup due to working conditions, this may be the future for online media. Stay tuned.
Gainesville TV Station Recreates NCAA Highlights To Beat Restrictions - (Deadspin.com)
Remember when...
The Southern Steel finally won for the first time on Aussie soil after beating the Thunderbirds on Sunday. They've been trying since 7 April, 2008 when they played their first ever game against the NSW Swifts, losing 53-42.
Also in April 2008:
TV series Lost still had two more seasons to go.
The Crusaders were 7-0 in the Super 14 season.
Magic wing defence Jamie-Lee Price was 12-years-old.
Tiger Woods, Lance Armstrong and Alex Rodriguez were un-blemished superstars.
Ibrastamps
Sure no one buys stamps anymore but that doesn't make these Zlatan Ibrahimovic edition ones any less special. The Paris Saint-Germain striker now has his own set of five official postage stamps released by the Swedish Postal Service. More than five million stamps were sold in advance.
"Personally, I get a lot of bills and they rarely have any nice stamps. Maybe that will change now," Ibrahimovic said, clearly unaware that most bills have postage-paid envelopes.
Help Warne out
Shane Warne is on the hunt for a Twitter user who Photoshopped a tweet to make it look the Aussie spinner was himself tweeting about match-fixing. If you know who this person was, please report them to the proper authorities.
Whoever has photoshopped and made up a tweet that I did not send, you have been reported to the police.Anyone who retweets is in trouble too

— Shane Warne (@warne888) March 30, 2014
Great tackle
Yes look closely that is two football players in action. Crystal Palace's Mile Jedinak, right, tussles with Chelsea's Branislav Ivanovic during their English Premier League clash on Sunday.


Photo / AP
Tweet of the day:

Brilliant little support group starting to form here pic.twitter.com/cFjerCemMc

— amar singh (@amarjourno) March 27, 2014
And finally...
Check out this dramatic footage of a Ukraine footballer who was knocked out by a goalie's flying knee. An opponent's quick action saved his life.
If you've got any decent stories worth telling we'd love some grassroots content for Daily Shorts, email us here.