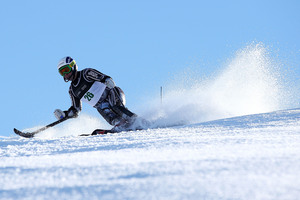 New Zealand skiers Adam Hall and Corey Peters had to settle for a frustrating pair of fourth place finishes at the Paralympics in Sochi today.
Added to another fourth for New Plymouth's Carl Murphy a few hours earlier in the snowboard cross it made for a day of so near yet so far for the New Zealand trio, who were chasing the country's first medal at these Winter Games.
Hall was fourth going into the Super G run today, the postponed second part of the Super Combined standing event.
The Otago competitor, a slalom standing gold medallist in Vancouver four years ago, managed the fifth best Super G time, 1min 21.36s, to end up just .22s behind Australian bronze medallist Toby Kane overall. Hall was sandwiched by Aussies, as he held off Mitchell Gourley by .74s.
Talented 16-year-old Russian Alexey Bugaev won his second gold of the Games, recording a combined score of 2min 09.72s over the slalom and Super G runs.
Austrian Matt Lanzinger took silver with a combined 2:10.82 and Kane the bronze in 2:14.14. Hall clocked 2:14.36.
New Plymouth's Peters, lying sixth after the slalom, produced an outstanding performance in the Super G sitting discipline today.
A competitive skier for only a couple of years, he achieved the second best Super G run of 1:18.67, bettered only by Canadian Josh Dueck, whose 1:18.27 was enough to win him the gold.
Dueck's total time was 2:18.20, with American Heath Calhoun winning silver in 2:19.09 and Austrian Roman Rabl bronze in 2:20.20.
Peters' combined time was 2:21.91.
He will finish New Zealand's involvement in the Games when he contests the sitting giant slalom tonight.