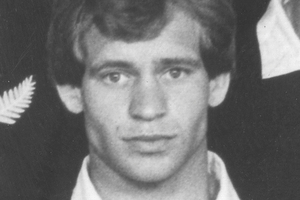 There was nothing conventional about Nicky Allen or his brief All Black career.
He was picked as an injury replacement on the 1980 tour to Australia and then for the trip to Europe where the All Blacks were asked to play Wales in their centenary test.
Allen looked sharp and at ease with the turbulent demands of test rugby and was awarded a try in the All Blacks 23-3 win although there was some doubt whether he forced the ball.
That was it though. Two tests and Allen was done. We did not know it at the time but the flair and skill we witnessed from the five eighths in Cardiff would not be seen on an international field again.
He looked an uncommonly good talent, a left-footed player who preferred to run or outwit the opposition rather than indulge in tactical kicking contests.
Orthodox and convention were not Allen's go and coaches needed plenty of patience and belief in his ability to put up with his antics.
Training and timekeeping were not his specialist topics and there was an element of the George Best about him as he stayed on in Britain to play for the Harlequins club.
Allen continued his rugby wanderings through Australia and back to Auckland for the '83 season. He was hurt again though and played outside Grant Fox so headed to a contract in Australia where he was tackled heavily in a club match near Wollongong and later died from the concussive effects. He was only 26.
BACK TO WYNNE GRAY'S 100 GREATEST ALL BLACKS
Statistics
Date of birth: 30 August 1958
Position: First five-eighth
Matches: 9
Tests: 2
Test debut: 12 July 1980 v Australia, Sydney
Final test: 1 November 1980 v Wales, Cardiff
Province: Counties
Test tries: 1
Test points: 4