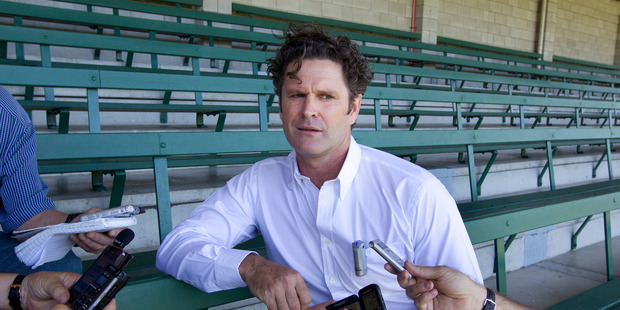 Chris Cairns lambasted New Zealand Cricket, chief executive David White and former players-turned-board-members Sir Richard Hadlee, Martin Snedden and Geoff Allott in addressing the International Cricket Council match-fixing allegations involving himself, Lou Vincent and Daryl Tuffey.
Chris Cairns' media statement released today
The story was broken by the New Zealand Herald in December.
Cairns has gone on the front foot with media this afternoon at Eden Park outer oval, making a statement and answering questions about his circumstances. The former all-rounder has been on gardening leave from his commentary role with Sky Television since the allegations broke. His contract was due to finish after this test, after which he has no further employment plans to support his family.
"The NZC board has a lawyer in its ranks in the form of Martin Snedden. Does he see this as a just process for someone to be exposed to in an investigation?
"Geoff Allott is another board member, a successful businessman. As of tomorrow, when this test is over, I'll be unemployed. How would Geoff feel if that was him?
"Sir Richard Hadlee is a board member, too. How would he feel having his family name drawn through the mud? Also David White as chief executive; is he happy for someone who gave 16 years of his life to this institution [NZC] and over 250 games for New Zealand to be treated this way. NZC has declined to comment. Why?
Cairns says no former teammates have spoken up in his defence, including former captain Stephen Fleming. He's only had contact with Tuffey.
"[I want them to] go on the record. Contact the ICC. If anyone is man enough to be saying things behind my back, say it to the people you should be saying it to, or to me. The thing that irks me with New Zealand Cricket from day one is that I've had the door shut in my face.
"If you've got information, go to the authorities, man up. That's all I've ever done. The way the ICC is recklessly going about tarnishing my employment chances and future earnings means I can't sign any further contracts until I'm cleared by the ICC. This is severely impacting my ability to provide for my family.
"I've had contact from nobody except Daryl Tuffey. I've had no contact with Lou Vincent.
"The circumstances are extraordinary in that my name was leaked to media, therefore the damage it does to your reputation and employment possibilities is quite substantial. We're reviewing that. For me it comes down to responsible reporting: What is the agenda behind my name being put out there? Why me?"
Cairns says his employers Sky Television have been supportive throughout.
"I've been on gardening leave since the Dunedin test and can only thank them for helping through the period. I wasn't rostered for the next test but the paid leave enabling me first and foremost to be with my family has been appreciated."