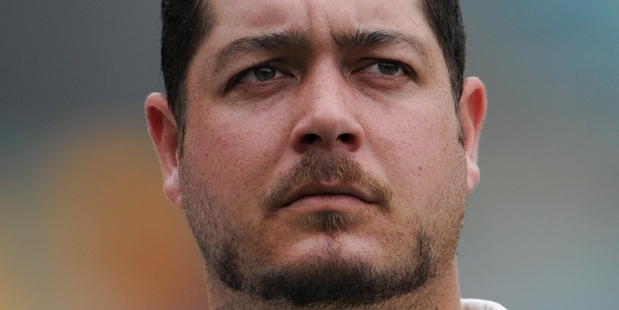 Friends of under-fire cricketer Jesse Ryder have rallied around the star as further claims of booze-related disciplinary problems emerge.
Ryder's career appeared to be in the balance last night as NZ Cricket reacted furiously to news he and fellow Black Cap Doug Bracewell were out drinking in Auckland the night before the first test against India began.
More details from Ryder and Bracewell's February 5 night out emerged yesterday.
The pair went to the Carpark Bar in central Auckland which was holding a pirate-themed fancy dress party with a number of radio personalities including former More FM DJ Stu Tolan. Another More FM host Jacqui Jensen disputed suggestions the event was a big booze-up.
"I was there with them chilling out in the corner of the bar," Jensen said on Facebook. "We kept to ourselves."
Jensen said she left at the same time as the players shortly before 2am.
Ryder yesterday laughed off media inquiries about the Wednesday night drinking session.
"Least you asked ... get the proper true story man," he told 3News.
But two more incidents where Ryder was drinking alcohol while on Black Caps duty emerged yesterday.
The 29-year-old lefthander went out drinking with Black Caps teammate Jimmy Neesham at 1885 Britomart, after his team's dramatic tie with the Indians at Eden Park on January 25.
Ryder reportedly needed help getting into a taxi at 3am - just a few hours before he was named in the test team.
A NZ Cricket spokeswoman would not answer questions about the incident, only saying "The 1885 evening was dealt with by management at the time".
Ryder also went out drinking with comedian Ben Hurley in Hamilton on January 8 after the Black Caps suffered an embarrassing 203 run defeat to the West Indies.
A woman told the Herald on Sunday she saw the pair coming back to the hotel late at night and Ryder looked a little worse for wear.
But Hurley was adamant Ryder was sober.
"I can confidently say he wasn't absolutely smashed and when somebody says they're 'acting sober', there's a good possibility they are sober."
Hurley said the claims being levelled against Ryder and Bracewell after the Wednesday night drinking session were unfair because they were unlikely to be picked for the team the following day.
Ryder's manager Aaron Klee did not return calls yesterday.
NZ Cricket would not answer questions from the Herald on Sunday around the pair's behaviour. It said it would form part of a disciplinary process and potential Code of Conduct hearing.
Ryder had only just returned to the Black Caps team after a lengthy layoff following a late night assault in Christchurch in March last year.
Their Black Cap teammates are understood to be livid, given their strong performance this summer. The Herald on Sunday understands the feeling in the team dressing room was disappointment rather than euphoria after their stupendous effort on the second day of the test against India on Friday.
India starts day four today at 87-1, chasing 407 to win the test.