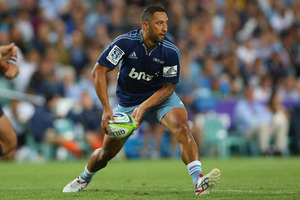 Benji Marshall arrived home from Sydney last night aware of the rugby truism that a first-five is on a hiding to nothing if his pack are beaten - and explaining why he did not want to follow fellow league-rugby convert Israel Folau's advice to play fullback.
For those prepared to be patient and play the long game with Marshall, his 40 minutes in Sydney were another positive step towards him bedding into his new code.
The Blues, with most of their All Black artillery in Auckland, were a little overwhelmed by a Wallaby-laden Waratahs side.
For the time that Marshall was on the field at least, it was a bit one-sided and the Blues No 10 didn't stand a chance of pulling any magical strings. It was a case of digging the trenches and knuckling down for a half of defensive chores.
"We were under the pump and I think that will have been good for him [Marshall]," said Blues coach John Kirwan. "It was good that he could experience the reality of being under the pump and having to try to lead and direct the team.
"It was a bit different to last week [game against the Hurricanes]. The football team didn't help him that much, as we didn't really come right until the second half.
"But he got another feel for leading the team and I think he's tracking really well. This week, we will download the Waratahs game and go through that with him."
Kirwan is happy to go slowly - let Marshall loose for short bursts and then take him off so he can observe the work of others.
The Blues have invested heavily in the former NRL star and are wary of wanting too much too quickly, which is why Marshall may continue to be used sparingly once the competition proper starts.
"I'd be happy to put him out there," says Kirwan about whether Marshall is ready to start against the Highlanders on February 22. "He's got the maturity but we can't be selfish about this and have to make sure that we properly manage him."
It's been a difficult balance for Kirwan to strike these past few weeks; he needed to get Marshall on the park so he could be properly exposed to his new code but that has meant limited game time for the other 10s such as Baden Kerr and Chris Noakes, one of whom is likely to start against the Highlanders.
Kirwan is confident, though, that the experience and maturity of his two established 10s will be enough to enable them to get through and play well despite being a little underdone.
Marshall is likely to be given another run in the trial game against the Chiefs this week and then probably take a spot on the bench the week after against the Highlanders. That would appear the most sensible plan given the Blues' need to start well and not overburden Marshall with too much.
"I think I have got a rough idea of what the team will look like [to play the Highlanders]," says Kirwan. "Certainly in some positions I have a good idea but in others, I'd say it's up in the air a bit.
"This week will be about integrating the All Blacks into the fold and to start looking at a few combinations."
With scarce possession, Marshall battled to assert any of his former dominance and control as a NRL playmaker but remained upbeat afterwards, saying he'd felt "not as lost" as his first game for the Blues a week earlier.
"It's another sort of step in the right direction from a learning point of view," Marshall said. "I still have a lot to learn. I said that last week. The expectation has been massive but you have just got to try and embrace the expectation and get better. It's my second game in 14 years, so I can still keep building."
Marshall and Wallaby star Folau had a post-game handshake (they played in opposite halves of the match) and had a long chat on the field.
"I was just talking to him then for some advice. He thinks I should play fullback but I am enjoying the challenge at 10," Marshall said.
"I like directing the team around. Just from this week to last week, my direction was a lot better and I felt not as lost today. So if I can get better again next week, hopefully I can keep getting better."
Asked if he would like to try fullback, Marshall said: "Not really. I trust the coaches in whatever they say. I feel I want to have the challenge of playing at 10. From what I have learned, there has been a rapid development, considering I was given no chance."
Shedding habits of a lifetime in league, and adjusting to new angles, running lines and breakdown responsibilities, are still taking time, said Marshall.
"The way we pass in league is going to the line and trying to put people through holes.
"Sometimes you have to be able to pass and be able to clean rucks, not fade out the back. That's a big habit I've had. And running and catching the ball, instead of standing still, to deliver," Marshall said. "Every day is a challenge, because I am new. There's a lot to learn."
Waratahs coach Michael Cheika said he would have probably started Marshall at fullback but doesn't doubt he can make it at No 10.
"I think it [fullback] is obviously a good way for a guy to see the game, a guy like that, to get into it," Cheika said. "But him playing 10, I think, is no problem. They're trial matches, that's what they're there for. I am sure he is going to adjust more and more to the flow of the game, and make a presence in the rest of the season."
Rival Waratahs playmaker Kurtley Beale also gave Marshall a tick for his effort with limited chances in attack: "I thought he went well. I thought the first half, we had a lot of the possession and we had them on the line there for a bit but when they got some good go-forward, he really directed the team around well."
- Additional reporting by Iain Payten, Sunday Telegraph, Sydney